Virtual events have exploded in popularity and can be an engaging, cost-effective alternative to in-person events. However, virtual events can still be expensive to produce, especially if your organization is operating on a limited budget.
An enduring sponsorship partnership can provide a steady stream of revenue for both parties for many years to come. Keep reading to find six tips for securing mutually beneficial sponsorship opportunities with event exhibitors, sponsors and donors.
6 Tips for Finding (and Keeping) Virtual Event Sponsors
Tip #1: Get to know your target audience with attendee profiles.
Companies want to directly connect with prospects to boost sales, improve brand recognition and enhance their overall image. You'll have a better shot at winning sponsorship if you know as much as possible about your attendees and share this data with potential sponsors.
Attendee profiles feature notable characteristics and lifestyle traits of people who attend your event. For example, get to know your attendees' favorite activities, interests and opinions. Understand what your community wants to learn from your event. A compelling attendee profile will impress potential sponsors and make them feel more confident in their investment for your online event.
Tip #2: Choose prospective sponsors and donors that closely align with your target audience.
It makes sense to begin with a list of prospects who are already predisposed to buying sponsorship or making donations. Start by making a list of companies that sponsor or donate to events in the cities where your event runs. Then make a list of the products or services your attendees might purchase. Your company's vendors might be excellent sponsors, too.
"It's all about finding who can relate to your attendees and your industry. You want to be able to directly pinpoint what is best for both you and your sponsor. Also, don't forget to reach out to your personal network, friends and colleagues. They can refer you to potential sponsors you may find useful."

- Megan Herfel, Account Manager at pc/nametag
Tip #3: Create offers that interest potential sponsors and donors.
Make initial contact with a prospect by sending an email that introduces your event through compelling photos, graphics, copy or even video. Then, follow up with offerings and endorsements they'll receive by participating.
There are many types of virtual event endorsement opportunities:
Logo placement
Messaging placement
VIP passes and exclusive gatherings
Speaking opportunities
Dedicated video announcements
Sponsored materials in registration packets
Website and email marketing
Social media mentions
Branded swag in an attendee gift box
Always customize the sponsorship package based on the sponsor's needs. Customize the pitch according to your sponsor's particular requirements. Get to know them, understand what they need and develop a relationship with the sponsor.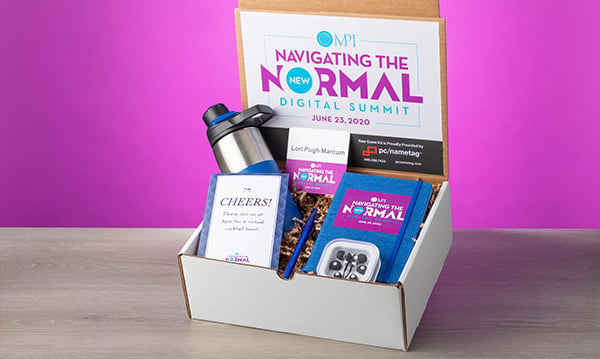 Tip #4: Develop a collaborative relationship with sponsors and donors.
When you've acquired a sponsor or donor, make sure to create a partnership with them. For example, include the company's sales or marketing liaison in the design of a virtual event attendee kit. Mailed to attendees' homes, kits are a great way to include sponsors and give them the opportunity to surprise and delight their prospects.
Consider giving your sponsor the opportunity to pick their product or include something that already has their information on it. Some sponsors or donors might already have a product to add, which could save you money.
Tip #5: Implement technology whenever possible.
Event sponsors and even donors want to see solid evidence that they'll achieve a solid return on investment. Beyond logo placement, virtual exhibit booths and social media mentions, sponsors are looking for "out-of-the-box" ideas that technology can provide.
Innovative technologies that will attract sponsors and keep them on attendees' minds before, during and after events:
Registration Data: Have attendees answer simple questions during registration. This data can be used as a persuasive technique to convince a sponsor or donor to support your event.

Digital Product or Service Offers: Sponsors can provide discount codes or host virtual competitions to encourage

attendee engagement

. Tracking links are a great digital tool to gauge visits, views and engagement metrics.

Live Event Streaming: Hybrid events can share

live video of presentations

or performances for

virtual attendees

and those who cannot attend your event in person.


Virtual Event Lead Retrieval: Lead retrieval tools collect data from virtual attendees by recording that they've visited your booth. Provide a list of visitors to your sponsors for post-event follow-up.
Tip #6: Build trust and keep happy sponsors and donors coming back.
After hosting an online event, ensure your sponsors and donors will continue to work with you by providing them with feedback and learning from their constructive criticism.
"Sharing attendee feedback and ROI data after the event is huge, especially if your sponsor made a large investment and you're looking to bring them back at future events," Herfel says. "If you don't give them the numbers, what's their incentive to work with you again?"
Your sponsorship report (which varies based on your arrangement) should cover key points to show ROI such as event attendance, data on attendee behavior, actions and demographics, number of leads generated, number of samples distributed, feedback received, and many more.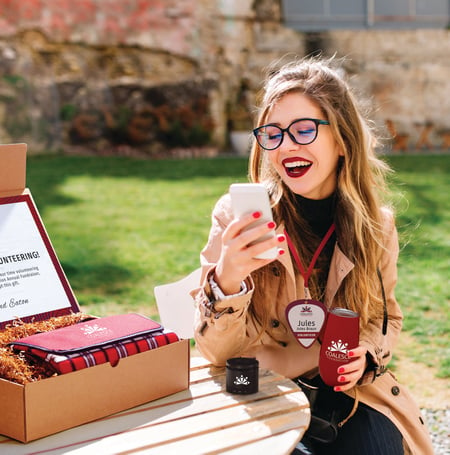 Looking for more ways to impress and retain your sponsors and donors?
Once you secure a sponsorship for an upcoming event, pc/nametag's meeting specialists are happy to help you create a virtual event experience that's sure to impress attendees and sponsors alike for years to come.
Use pc/nametag's cutting-edge printing services to create sponsored registration packets
Choose from hundreds of unique, brandable promotional products for attendees to enjoy
Assemble a custom-curated virtual event attendee kit that caters to your event's theme
Don't forget to download the all-new virtual event ebook!
How do you secure and retain sponsors and donors for your virtual events? Let us know!
READ NEXT: