As an event professional, "efficiency" is your middle name. You are always on the hunt for ways to impress attendees and make your meetings, conferences and corporate events run more smoothly. You also love finding new strategies to help your team save time, money, and resources (we love that about you)!
If you are on a mission to maximize event planning efficiency, we are here to help. We have rounded up a list of our favorite tips and tricks for stepping up your productivity game. Whether you are a team of one or a team of many, we hope these hacks will help you focus on what you love most: Preparing meetings that make a big impact.
Table of Contents
Event Strategy Productivity Tips
There is no denying that organizing an event is a monumental task. The more time you can give yourself to prepare, the more time you can focus on executing the finer details. Save your sanity (and likely a few choice words) when setting expectations, delegating tasks, delivering materials, and more with these simple tips.
1. Define event KPIs, goals, and objectives with key stakeholders.
Many planners make the mistake of diving head-first into planning without first defining their goals and objectives. This is a crucial part of your success, so do not skip it! Setting specific expectations ahead of time and making them measurable can make your life a lot easier overall.
Event success KPIs can include, but are not limited to, the following:
Total registrations
Event check-ins
Breakout session views
Breakout session ratings
Live polling response rates
Social media mentions
Satisfaction survey responses
Net promoter score (NPS)

Cost-to-revenue ratio
Speaker engagement metrics
Sponsorship satisfaction rates
Number of returning attendees
Number of qualified sales leads
Number of customers acquired
Cost per Customer Acquisition
Gross revenue
Remember, key performance goals should be specific, measurable, attainable, relevant, and time-bound (SMART). Stakeholders and decision-makers rely on these metrics to measure the success of their events, so make them count!
2. Use event registration packets to deliver badges and meeting materials.
Want to cut down on queue times and overcrowding in your registration area? Event registration envelopes are one of the easiest ways to expedite the process and get people in the door faster, no matter your budget. You will also make sure attendees have everything they need to kick off their day and enjoy your meeting to the fullest.
Registration packet ideas are endless. You can include items such as event badges, lanyards, agendas, sponsored materials, notebooks, pens, custom face masks, or anything else you can dream of. Add a touch of personalization with a small surprise, like a wearable pin or sticker.
3. Delegate tasks across team members and event volunteers.
If you are feeling stressed, overwhelmed, or overloaded, task delegation can be your best friend. Good delegators build strong teams that are more than capable of meeting the demands of an important event. Take time to distribute tasks among staff members. Give your team clear guidelines and expectations, then allow them to work independently.
Once your event is over, improve efficiency for the future by meeting for a debrief. Discuss what worked well (and what did not) with staff members, volunteers, and stakeholders. Collect this insight while the event is still fresh in everyone's minds.
4. Print badges at the venue with on-site badge printing.
If event badge printing is a source of frustration for you, you are not alone. One way to cut down on queue times at your event is to feature on-site badge printing. Not only will attendees get accurate, up-to-date information printed on their credentials, but they will also enjoy having a touchless event registration option.
Send unique QR codes or bar codes to every attendee. Once these are scanned at the event, an on-site event badge is automatically printed off on thermal printer paper, then stuffed into an on-site event badge or badge holder. Have registration staff handle stuffing to avoid bottlenecking. Need name badge printing supplies? Shop here!
"Should your team opt to have attendees stuff their own on-site event badges into holders, attach lanyards to badges or holders beforehand, then hang them on a lanyard stand to increase efficiency."

Megan Herfel, Account Manager at pc/nametag
Event Vendor Productivity Tips
A strong network is one key to your event's success. Get the most out of your business partnerships, vendors, sponsors, and volunteer network by establishing trust, credibility, and enduring relationships you can rely on. These positive experiences will make repeat partnerships more likely in the future.
5. Take advantage of early-bird specials with venues and vendors.
Reaching out to venues and vendors early is a surefire way to save you time and headaches down the line. Our advice is to be confident when negotiating with vendors. You may be surprised that many will offer custom services with flexible pricing. All you need to do is ask.
Determine how much you are willing to pay, then offer the vendor between 5-10% less instead of simply asking for a quote. Even if the vendor negotiates up, you are more likely to stay within your budget and potentially save money.
6. Attract event sponsors and use them as a financing option.
Many organizations, especially non-profits and smaller organizations, need a little help with defraying costs. Leveraging event sponsors is a great financing option, no matter the size of your event. There is no replacement for the meaningful relationships that you establish with sponsors. Lean on them to boost your budget.
Entice sponsors by offering them perks such as discounted event tickets, speaking opportunities, access to event information, or increased brand exposure. You can even offer the opportunity for sponsors to name or create an awards category related to their brand if the event features an awards ceremony.
7. Consider outsourcing event production, design, and other services.
Sometimes, delegating tasks to your team may not be the most efficient option. This is when outsourcing event production can help you best achieve your goals. Hiring a professional can eliminate big tasks from your to-do list, like creating a website, answering attendee questions, creating an event marketing plan, or even taking event photography.
Ask yourself "Are there any holes in my team? Can I fill these gaps by outsourcing services?" By utilizing an outside professional, your team members can concentrate on their normal job duties and improve productivity.
8. Recruit volunteers to improve efficiency at your event.
Volunteers are passionate about events because they love making their community a better place. You can recruit volunteers by offering benefits such as free event tickets, networking opportunities, or access to breakout sessions. In turn, you will receive much-needed help without breaking the bank.
Start by identifying what volunteers want to get out of helping at your event, then communicate these benefits in your event marketing efforts. You may be surprised how willing volunteers are to help if you just ask. Consider mailing your volunteers a handwritten thank you note and thank them during your closing remarks.
9. Eliminate the stress of preparing your name tags with Name Badges to Go.
Handling name badge preparation can be stressful, confusing, and downright time-consuming. The last thing you want to do before a big conference is spending hours fiddling with name tag inserts, stuffing them into vinyl holders, attaching lanyards and organizing badges in alphabetical order.
If your cortisol levels spike just thinking about name badge preparation, leave the process to an event badge preparation professional like pc/nametag. With Name Badges to Go, we handle the hard stuff while you get expertly designed name tags, event badges or staff IDs—fully alphabetized and organized—shipped directly to the location of your choosing.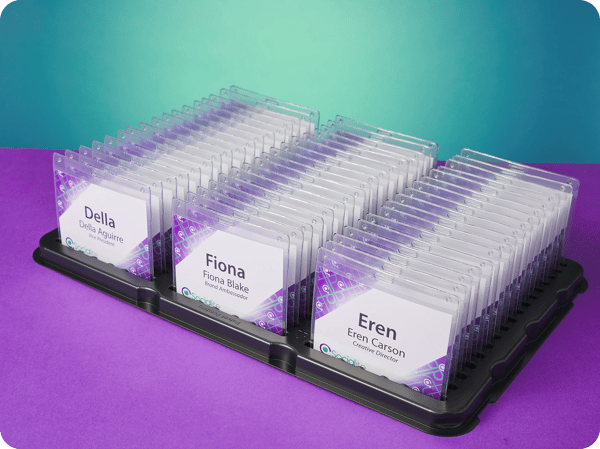 Name Badges to Go, a time-saving service by pc/nametag, eliminates the need to prepare your own name tags for meetings and events. Send us your attendee list and we'll do the coordination, printing, assembly, and shipping for you.
Event Technology Productivity Tips
Today, there are countless programs, platforms, and apps available to make your job as an event professional more efficient and less stressful. The key is to find event technology tools that work for you, your team's needs, and the type of events you create. Make your digital tools work to your advantage with these tips.
10. Use KPI software to track your success metrics.
With so many moving parts in event management, it can be difficult to know what to measure when evaluating the success of your event. This is where software can step in and make data your best friend. Not only can you use these metrics to plan an awesome event, but you will also be empowered to justify your strategy to leadership.
Get more visibility into your event statistics with software like EventBrite, which tracks sales in real-time and provides reports on how to grow your audience and boost ROI.
11. Invest in event management software to automate processes.
For many meetings, event management software is necessary for making teamwork as smooth as possible. For example, certain platforms can help meeting professionals build event websites, manage registrations, track ticket sales, create event schedules, organize attendee messages, and more.
If you are in the market for an event management tool, check out Eventbrite, Whova, Boomset, Cvent or Zoom Events.
12. Use lead capture software to collect event data.
In the events industry, time is money. Many planners struggle to find the time to process leads manually after an event. By having event lead capture software, the process is automated and streamlined so you can spend more time planning your next event and improving their organization's total cost of ownership.
"Using a universal lead capture app allows you to capture information in a variety of ways. Some organizations prefer to scan business cards or event badges, while others prefer to use audience engagement tools to collect information from attendees. No matter the method you choose, an app allows you to have a more holistic lead capture experience."

Ryan Schefke, CEO of Captello
Event Marketing Productivity Tips
Event marketing is all about building brand presence, increasing customer satisfaction, generating leads, building pipelines, and creating new opportunities for your organization. Learn how to stand out from the crowd at your next meeting, conference, or micro-event with these marketing strategies.
13. Determine your event's net promoter score.
A net promoter score (NPS) measures the likelihood of someone recommending your event to a friend or colleague. You can use this metric to evaluate attendee loyalty, improve future event management processes and discover the true value your event brought to attendees — information your stakeholders will want to know.
Ask attendees "On a scale of 1-10, how likely is it that you would recommend this event to friends?"
Scores of 9-10 are considered "loyal enthusiasts" and "brand promoters."
Scores of 7-8 are "passives" who are satisfied but may be vulnerable to competitive offerings.
Scores of 0-6 are considered "detractors" who may even discourage others from attending.
Understanding your event's NPS score will help you make changes in the future to create more loyal attendees.
14. Use an automation platform to templatize outreach emails.
Email marketing is one of the most essential parts of a successful event marketing campaign. Today, more than 75% of B2C companies use email marketing as the number one tool to promote their events. Use carefully crafted emails to reach attendees where they are, whether that's in their office inbox or on their mobile devices.
You can use an email automation platform like GetResponse, Sendy, MailChimp, Smore or Constant Contact to personalize your messaging and include a call to action (I.e. "sign up, learn more, buy tickets.") that drives results. You will also give your emails a more polished look and observe important performance analytics, like open rate and click-through rate (CTR).
15. Use gift boxes to deliver virtual event and hybrid event materials.
An event-branded gift box is a unique way to show appreciation while also providing access to useful materials that people need to participate in your conference. Attendee gift boxes can be used to provide event badges, lanyards, badge ribbons, promotional gifts and branded event materials from sponsors.
You may also want to consider giving your guest speaker a thank you gift after an event to show gratitude for their contribution. Create your own curated gift box that features meaningful branded gifts, like a blanket, Bluetooth speaker, t-shirt, journal or beverage kit.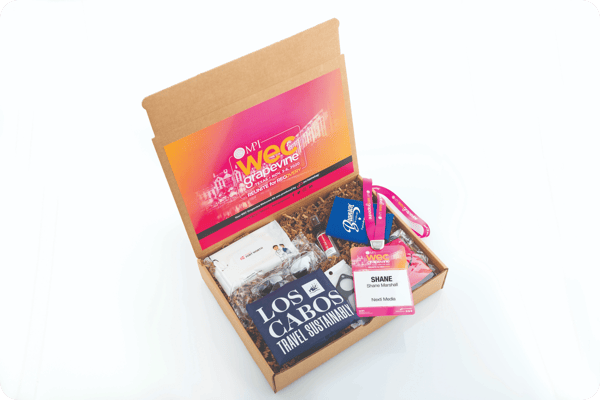 In 2020, Meeting Professionals International (MPI) used pc/nametag to create over 1000 gift boxes for their MPI-WEC Grapevine conference. Each box included a branded mask, hand sanitizer, wet wipes, and an attendee's personal badge.
16. Create an event marketing calendar and automate social posts.
Successful event marketers need a way to organize everything on their to-do list. A marketing and communications calendar is a reliable tool for organizing upcoming content and deciding when it will be posted. This document will help you avoid the stress of having to produce last-minute, unplanned ideas for a social post.
Keeping a well-organized event marketing calendar can help you keep track of tasks and plan out your event marketing plan. Use a tool like Eventbrite Boost, eclincher or HubSpot to schedule social posts across platforms in advance.
17. Follow up with a post-event survey.
Want to collect actionable advice from your attendees? Try collecting insight by creating a survey using Google Forms, SurveyMonkey, Qualtrics, or another survey tool. Remember to keep your survey to ten questions or less. "Short and sweet" is best for a great response rate!
In your email, specify how many questions are in the survey, or how long the survey takes to complete (I.e., "A five-minute survey). You can even incentivize the survey by giving respondents the chance to win something, such as an event-branded promotional gift, a gift card, a discount, or a free pass to a future event.
Project Management Productivity Tips
Event professionals are the ultimate project managers. They are experts at coordinating details, managing deadlines, and creating final products that impress. Use these tips to channel your inner project manager and help your next conference run like a well-oiled machine.
18. Use a project management tool to stay organized.
While you can rely on bulky filing cabinets, messy email folders, sticky notes and handwritten to-do lists to keep everything organized, there's a better way — especially in our technology-driven world.
The best project management tools help team members handle common challenges like managing deadlines, workloads, deliverables and project reallocation — all in one easy-to-use electronic system. Find a tool that will meet your team's needs and budget. You don't need to spend an arm and a leg to improve your team's efficiency!
19. Consolidate your notes electronically.
Whether you are in an important meeting, attending a training session or walking around your venue the day of your event, notetaking is a must to keep track of key details and ideas. Keep your thoughts and inspirations in one place to ensure you can access them quickly.
There are countless notetaking apps available, but our favorite is Evernote. This software allows you to save text, images, audio and more. You may also want to check out SimpleNote and Squid for more options.
20. Eliminate distractions with productivity apps.
Some days, it can be incredibly difficult to focus within a hyperconnected world. On days you need to double-down and focus, utilize one of the following apps to help you be more successful when managing your event management tasks:
Discover more ways to be purposeful with your phone usage habits this year in our phone detox guide on how to look at your phone less and accomplish more.
Productivity Hacks for Event Planners
If you're like most event professionals, you've got a lot on your plate. From managing projects to developing budgets, overseeing teams, and prioritizing tasks, your day-to-day responsibilities can quickly become overwhelming if you don't know how to best manage your time and keep organized.
Using time-saving event tips like the ones listed in this article will help you cut out the noise and focus on your main objectives as a planner. Discover even more strategies in The Ultimate Productivity Hack Toolkit for Event Professionals. Find helpful tips and tricks to streamline your work life and productivity, starting today.