Event planning isn't just a job; it's a career and a way of life. I firmly believe that meeting planners are some of the hardest-working individuals on the planet. No other job provides the opportunity to combine creativity and tenacity and transform mere gatherings into unforgettable experiences.
This week, I cozied up with "Lucky Boxcutter," an incredible event planning book written by Sara Gorlick, CMP. This was easily one of the best event planning books I've read all year. I couldn't put it down! Read on to discover ten of my favorite lessons I learned from Sara's industry experiences.
Meet the Author

Sara Gorlick, CMP is a corporate event planning professional with over a decade of experience in the healthcare, hospitality, and e-commerce industries. In addition to writing Lucky Boxcutter, Sara has also won several awards including the BizBash Corporate Planner of the Year Award and the Event Solutions Spotlight Award for Corporate Event Planner of the Year

About Lucky Boxcutter

Lucky Boxcutter is a fun, fast-paced, and conversational event planning book filled with real-life stories and lessons. Inside, Sara Gorlick, CMP, covers honest accounts of her most memorable successes and failures in five chapters. Lucky Boxcutter will have you laughing and learning, no matter your level of event planning career experience.
Event Planning Ideas and Advice from Lucky Boxcutter
1. Boxcutters are the "essence" of event planning.
When you think of "good luck," what comes to mind? 🍀 As a marketer, I think of crossing my fingers, finding a four-leaf clover, or seeing a rainbow after a storm. But for event planners, boxcutters are the perfect representation of a good luck charm. (Cue the cute title of this book!)
"It is difficult enough to keep track of your sanity on site at an event, let alone a boxcutter," Sara says. "With people asking for your help left and right, you mindlessly place it down somewhere, can't remember where, and it is never to be found again."
I love the idea that every event planner is bonded through boxcutters. 💙 Small but mighty, boxcutters represent this "secret society" that every planner belongs to. They're tangible proof that you've been on-site, survived the chaos, and risen to every challenge—lucky boxcutter in hand.
💬 Join the Conversation: What are your event planning must-haves while on site? Leave a comment below with the essential items you always keep handy!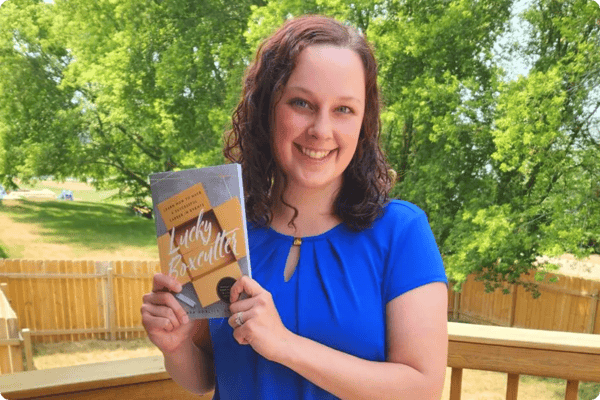 2. Event planners must learn to be the ultimate multitaskers.
Event planning is one of those rare careers where no two days are the same. Even with structure and schedules in place, you never really know what your workday will look like. For many people, this is what makes the job so exciting.
"One week, you will be sitting at your desk typing up logistics, negotiating with vendors, and attempting to figure out how to lower your food and beverage expenses," Sara writes. "The next week, you will be presenting to the CEO on event ROI or training the company on how to act professionally at an upcoming event where you will host 700 of your top clients."
Between overseeing event registration, printing event badges, running attendance reports, managing timelines, searching for venues, and supporting staff and team members, event planners have a lot on their plates. 🏃‍♀️ (Whew...I'm exhausted just typing that sentence!)
While this career can be incredibly demanding and time intensive, I've learned that the most successful planners are people with warm personalities who know how to stay calm under pressure. Not everyone has the willpower to work fifteen-hour days while on site, yet planners are constantly energized by the challenge.
💬 What personality traits, characteristics, and skills do the most successful event planners have? Leave your thoughts in the comments.
3. Event planning careers aren't as glamorous as they seem.
Have you ever planned your own wedding, a baby shower, or a family gathering and thought "Wow, I'd make a great event planner!" If so, you're not alone. Many people believe these experiences give them all the skills they'd need to successfully plan corporate events.
While these types of events can certainly fuel your passion for planning, they simply don't equate to the immense amount of time, dedication, energy, and knowledge needed to pull off professional-quality events.
"When people ask me how I started my career, I always say I was thrown into the fire," Sara writes. "Most people think if you are an event planner, your job is very glamorous. If that is what you are looking for, then this is not the job for you. About 90 percent of my time is behind a computer, on the phone, writing up plans, and physically preparing for an event. Ten percent of my job can be a bit glamorous, but the majority of the time, it is real work."
Lucky Boxcutter taught me that "being organized" isn't enough to be a great event planner. The most successful planners value hard work, solve problems quickly, and dedicate energy toward impacting their organization's bottom line. As Sara says, they know how to take a "jumble of details" and put them into a clear, concise, executable package.
💬 What are the top event planning misconceptions you've come across? What do you wish people understood about your career? Leave a comment below.
4. Event planning jobs aren't for the faint of heart.
While event planning can be one of the most rewarding careers, it's also one of the most stressful. There's a reason that event planning ranks as the third-most stressful job in the world. Planners are constantly asked to "do more and do it right," which can take a toll on mental and physical health.
"[Traveling from country to country] was some of the loneliest times of my life," Sara writes. "I often traveled by myself and would stay in each place for no more than two nights. I was busy with work, and even though I was proud and excited, I was also exhausted, alone, and stressed."
Event planner or not, Lucky Boxcutter teaches us that there's power in pushing through difficult times. In her book, Sara explains how her intense travel schedule impacted her personal life, causing work burnout and making her feel emotionally and mentally weak. I appreciated these moments of honesty. The next time you're feeling down or feeling like you're ready to quit, remind yourself that this is part of the process.
"In today's world it is easy to feel insignificant," Sara says. "This can cause you to feel unmotivated, anxious, or depressed, which is your ego talking to you. You are living a meaningful life, and it is important to know that what you do each day does matter."
💬 What strategies do you use to help yourself get through your "difficult moments" as an event planner? Leave a comment below.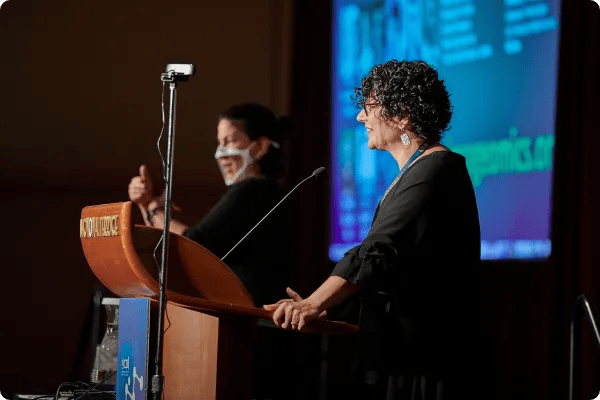 5. Event planners must know how to handle criticism.
Think back to the last time you made a mistake at work. Were you hard on yourself? Did you apologize profusely? Did you lie awake at night, wondering where it all went wrong?
In Lucky Boxcutter, Sara poses an interesting question: "Why do we understand and accept when others make mistakes, yet we're incredibly hard on ourselves when we do the same?" Event planners are trained to be the problem solvers. This makes it incredibly hard to cope when [crap] hits the fan.
"It's very normal to feel extremely judged and criticized after an event because people love to tell you what went wrong or could have been better," Sara explains. "Not only do people love doing this, but they earnestly believe they are giving you unique insight even though they rarely do. People just want to be heard."
Lucky Boxcutter taught me that managing constructive criticism is an art form. It's up to the planner to either "smile and nod" or transform suggestions into actionable goals for next time. The key to gaining respect is being open about what went wrong and turning "negatives" into future opportunities.
"Never let yourself down when an event does not go well or when there is criticism," Sara suggests. You will have naysayers at every event you produce. Take the criticism as an opportunity to do better, but also know when that critic doesn't have a clue."
💬 Do you have any defining moments in your career? What happened? How did you respond? How does that experience impact you today? Leave a comment below.
Want a digital version? Get "Lucky Boxcutter" on Amazon for your e-reader.
6. Event planners sometimes feel like failures (and that's okay).
In the world of events, things can (and will) go wrong. There's no such thing as a 100% perfectly executed event. You can spend all the time in the world perfecting your working agenda and still encounter situations you never dreamed would happen.
In her book, Sara writes how terrifying and difficult it was to plan her very first event. Between harsh criticism from her superiors, being pulled in one hundred different directions, and forgetting key details, Sara remembers feeling distraught, insecure, and overwhelmed.
"The entire day had me feeling as if I was failing," Sara writes. "...We had one more day to go, but I felt defeated. I went upstairs to change for dinner, walked into my hotel room, shut the door, walked a few steps, collapsed on the beautiful wood floor, and cried and cried and cried."
As event planners, admitting your event could have been better doesn't mean you're a failure. Instead, fixate on your successes. Mistakes are simply learning opportunities. As Sara would say, repeat this mantra: "I am not a bad planner. I can't account for everything that goes right and wrong."
💬 What was your first event experience like? Tell us your story in the comments.
7. Event planners are also crisis managers.
Event-related crisis situations come in all forms, from running out of coffee to disgruntled attendees, A/V issues, and everything in between. They can be serious, superficial, or even comical. (P.S. I won't ruin the surprise, but there MAY be a hilarious story of a prank involving rats in Chapter 2... 🐀)
Sara says the ability to appear calm is one of the most important qualities you can have as an event planner. Even if you're panicking, it's important to keep a calm disposition—a trait that should eventually become second nature to any event planner, even if it's a total façade!
"My ability to seem calm is a trait that has carried me through my career as an event planner," Sara says. "If you cannot stay calm in situations, you better learn how to do it fast, or at least how to look calm from the outside."
When crisis situations hit, they all must be resolved. Event planners don't get to "set and forget" their event plans; they're constantly moving around the venue, answering questions, providing directions, and putting out "fires" that pop up. If you need it, they've got it covered!
💬 What are the most common questions you get from attendees? How do you ensure everyone feels heard and valued? Leave a comment below.
8. Event planners must be kind to everyone, especially the newbies.
One of the things I loved most about Lucky Boxcutter is Sara's ability to take negative situations and pay them forward with kindness. It can be all too easy to "lose your filter" and think before speaking, especially when the pressure is on to perform. Sara encourages readers to choose kindness every time.
"Remember that being an event planner is not a natural state of being, so when you do feel frustrated, push through that feeling, be kind, and smile," Sara suggests. "Be less reactive in your actions and words. You'll be so much happier with your own performance at the end of an event if you do so."
In her years of experience, Sara says that "losing your cool" isn't cool. If fact, it puts you at risk of coming off as unprepared and unapproachable. Instead, show kindness to everyone, especially less-experienced planners who are learning the ropes. Give them the patience your superiors gave you.
💬 What are your tips for dealing with insensitive or combative personalities? Leave a comment below.

9. Prove event ROI and your competency through data reports.
One of my favorite sayings is "If you can't measure it, you can't manage it." This is a great principle to follow in event planning. It may feel like your event was a huge success (and it may as well have been), but without the data to back it up, you won't be able to prove it to yourself or your stakeholders.
"All goals will vary depending on your event," Sara explains. "My most important piece of advice is to create goals that are achievable. Choose goals that you know you can beat. If you far exceed your goal, then you look even more amazing and have a great ROI portfolio to show for it."
Always create, document, and present the value you bring to the company via your events. Show this by running numbers, creating reports, negotiating pricing, tracking your savings, and maintaining communication.
When writing your goals, have them be measurable. Aim for 3-6 goals out of every event and determine a way you'll be able to measure your success. Then, use a post-event recap to portray data, findings, and results. What strategies did you use that affected the bottom line?
💬 How do you measure ROI through your event experiences? Do you measure ticket sales? Attendee engagement? Client retention? Brand awareness? Let us know in the comments!

10. Practice self-care when event planning stress is high.
In event planning, there will be times when you push your mind and body to the max. There will be restless nights filled with "workmares," exhausting days on the floor, and late nights when your feet ache from trekking countless miles throughout the venue all day.
However, while these situations are an expected part of planning, always remember that your body deserves rest, nourishment, and time to recenter. Sara explains that you cannot plan amazing events if you are destroying yourself in the process.
"Arrive at your hotel room for the evening, change into your comfy cozies, and peruse the room service menu like a greedy little piggy knowing the cost is covered," Sara writes. "Time to fuel up for the next day on-site! Thanks, expense account."
Looking for more event planner wellness practices? Sara recommends squeezing in short naps or resting your eyes when you can, changing your shoes halfway through your day, fueling up on caffeine, and ending the day with a little treat and a soothing foot bath to reduce swelling.
💬 How do you prioritize self-care as an event planner? What activities and rituals do you recommend? Share your ideas in the comments.
TL;DR: Lucky Boxcutter is a Must-read for Meeting and Event Professionals
If you're looking for an amazing read, Lucky Boxcutter is the answer. I cannot recommend it enough. Not only was it one of the best books I've read all year, but it taught me something new in every chapter.
I especially appreciate Sara's willingness to show vulnerability in the stories she shared. Her personal accounts teach us that it's okay to make mistakes. The key is to feel the fear, push through, and grow.
Event planners are superheroes. They deserve more credit for the amazing work they do throughout the year. No matter where you are in the event planning journey, Lucky Boxcutter will leave you feeling inspired and ready to tackle any challenge that comes your way.
"Lucky Boxcutter is for any aspiring or current event planner out there who needs a little encouragement to keep moving forward, to stay true to yourself, and to know it is okay if you're scared sometimes (or all the time) the night before a big event you have planned."

Sara Gorlick, CMP, Author of Lucky Boxcutter
Want a digital version? Get "Lucky Boxcutter" on Amazon for your e-reader.