There's been a lot of talk about diversity, equity, and inclusion (DE&I) in the events industry lately—and for good reason. The right DE&I initiatives can make meetings and events better (and safer) places to be.
In this guide, you will find everything you need to know about hosting inclusive events, including definitions, best practices, and more. Don't forget to download the Diversity, Equity, and Inclusion Event Planning Checklist at the end of this guide for even more ways to create a welcoming experience for all.
Table of Contents
Inclusive Events: What They Are and Why They Matter
Inclusive events involve creating experiences that are supportive of everyone in attendance, no matter a person's age, race, gender, ethnicity, sexual orientation, or abilities.
The beauty of events is that they serve the world. Conferences, seminars, and expos have the power to bring a multitude of people together to discover new perspectives, support professional development, and empower voices from different walks of life.
It is for these reasons that diversity, equity, and inclusion (DE&I) have become essential elements of a successful event strategy. An event cannot be considered a success until every attendee is empowered to participate without barriers.
One thing we love about events is that they provide the opportunity to coexist with people who are different than us. To learn more, we asked Janet Sperstad, a CMP Fellow with 25+ years of experience, for insight on championing acceptance through inclusive event experiences:
Types of Diversity in Meetings, Conferences, and Events
As an event professional, implementing a few diversity initiatives isn't enough when creating a well-rounded event strategy. Event professionals must meet compliance targets, while also creating meaningful experiences that are integrated and effective.
Before creating an open and accepting environment, event professionals must first understand that diversity appears in many types and categories. Diversity types and categories include the following:
Cultural Diversity:

Characteristics relating to a person's ethnic background. Examples include a person's customs, family values, and languages.

Demographic Diversity:

Characteristics relating to a person's societal background. Examples might include a person's education, nationality, and socioeconomic status.

Racial Diversity:

Characteristics relating to a person's race. Caucasian, Black, African American, American Indian, Alaska Native, Native Hawaiian, Pacific Islander, and Asian are a few examples of race.

Religious Diversity:

Characteristics relating to a person's spiritual beliefs. A person's religious practices may be founded on Atheism, Buddhism, Christianity, Hinduism, Islam, Judaism, Sikhism, Indigenous Religions, or other religions.

Age Diversity:

Characteristics relating to a person's age and generation. Silent Generation (b. 1928-1945), Baby Boomers (b. 1946-1964), Gen. X (b. 1965-1980), Gen. Y (b. 1981-1996), and Gen. Z (b. 1997-2012) all bring diverse perspectives to events.

Gender Identity and Sexual Orientation Diversity:

Characteristics relating to a person's gender identity and their attraction to others. It is up to event professionals to create events that include and celebrate all identities and sexual orientations. Read more about LGBTQ-friendly event planning.

Ability Diversity:

Characteristics relating to a person's physical and emotional capabilities. Public event venues must make reasonable accommodations to help people with disabilities integrate into the event experience without difficulty.

Personal and Professional Diversity:

Characteristics relating to a person's life experiences. These characteristics are not protected by law but do shape a person's viewpoints. Examples include learning preferences, political beliefs, motivation, goals, and skills.
Research Behind Diversity Challenges in Event Planning
Most event professionals would agree that honoring diversity, equity, and inclusion is the moral thing to do at events. In fact, a study by
Meeting Professionals International (MPI)
found that the events industry has already made positive progress in championing DE&I.
Research results include the following:
20% of event professionals implement DE&I initiatives to comply with legal requirements.
19% of event professionals implement DE&I initiatives to achieve better business results.
56% of event professionals say they have already written diversity and inclusion policies.
42% of event professionals said their businesses host DE&I statements on their websites.
While the push for more DE&I initiatives has been thoroughly laid out for years, the study also found that many event professionals are still struggling to successfully foster diversity and inclusion at events. Research results found that there's still room for improvement in how event professionals handle inclusion initiatives:
40% of event professionals say they don't have the information needed to plan inclusive events.
20% of event professionals say they lack the budget to plan inclusive event experiences.
14% of event professionals say they do not have enough leadership support for DE&I initiatives.
13% of event professionals say they lack the time to plan proper DE&I initiatives.
After reading MPI's study, it is concerning to see that 61% of event professionals experience barriers to planning exclusive events. Today, I am hoping to demonstrate that championing DE&I at events does not need to be difficult, expensive, or time-consuming.

Diversity and Inclusion Event Ideas and Strategies
The following strategies will make your conferences, seminars, expos, and meetings more enjoyable for everyone involved. How many will you challenge your team to implement this year?
1. Use pre-conference planning to discuss event goals and objectives.
Making your event more accessible and inclusive starts with pre-conference planning. This is the perfect time to discuss how your team will become advocates for every attendee, speaker, exhibitor, and VIP at your meeting.
While planning DE&I events does require thought and strategy, having these conversations will challenge your team to rethink the ways it typically hosts events. Discuss the following:
Does the event venue provide elevator or ramp access?
Are there accessible transportation routes to and from the venue?
Are there accessible parking spaces available at the venue?
Does the venue have enough space to accommodate people with mobility aids?
Is the location and destination of my event LGBTQ-friendly?
Is there a need for diversity training on my team or among our vendors?
In terms of accessibility, it's impossible to over-communicate your intentions with attendees. Use your pre-conference communications to tell people what to expect. For instance: Will there be flash photography, strobes, or flashing images that may cause seizures? Will fog machines or smells be used that might impact someone with chemical sensitivities? Will interpreting services be provided during panels and sessions? Will off-site social activities be fully accessible?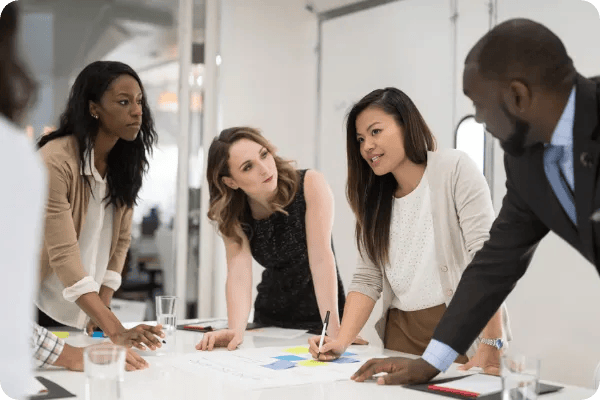 2. Foster inclusive event design through ADA accessibility.
Remember, room set-up is an important element of hosting an ADA-accessible event. While it can be tempting to cram as many tables and chairs as possible in a room, this conference room configuration can be a challenge, especially for attendees with limited mobility.
When designing your event space, reserve seating at the front of the room for people who lip-read, are hard of hearing, and who use electronic hearing aids. People who use sign language interpreters will also need space to sit at the front of the room.
As always, keep aisles clear of obstructions, not just for ADA accessibility but also for emergency action planning purposes. When planning your agenda, provide ample time for attendees with disabilities to move between sessions, use the restroom, and get refreshments.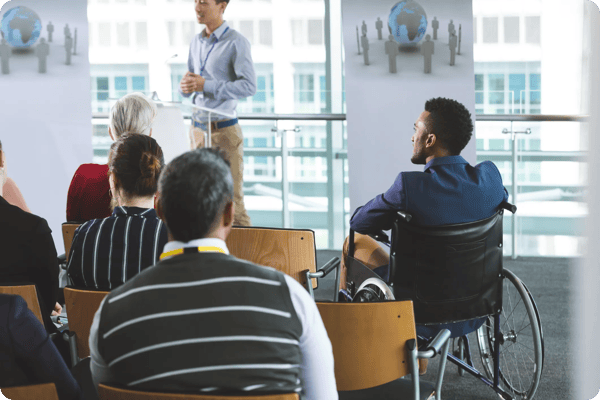 3. Discuss DE&I goals with event vendors and suppliers.
Event professionals are pros at carefully selecting dates for their events, conducting site visits, and discussing their goals with vendors and suppliers. Don't forget that the organizations you work with should be your partners in planning. Your venue, caterers, suppliers, and vendors should be more than willing to discuss how they'll help you reach your DE&I goals. When exploring vendors and deciding who to work with, consider the following:
Does the site visit reveal adequate accessibility to the destination and the venue?
Is your caterer willing to work with diet restrictions and faith-based dietary needs?
Is your venue willing to take steps to ensure every attendee has equal access to the event?
How can your event badge supplier work with you to create credentials that reflect inclusivity?
Diversity initiatives and accessibility requirements should be top considerations when planning events. Make sure the organizations you work with are eager to join in your quest to make events as inclusive as possible.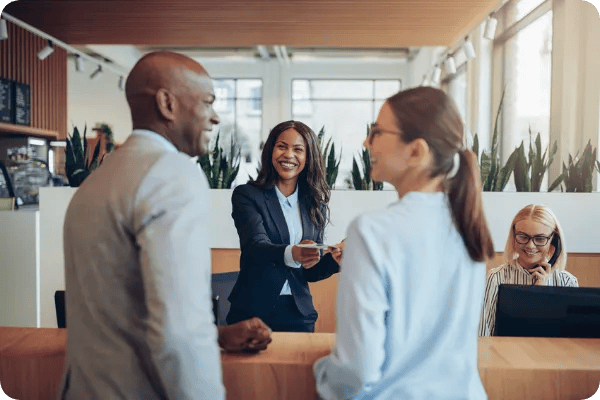 4. Celebrate diversity through your event agenda, activities, and meals.
No attendee wants to feel like an outsider or burden at a conference. Event professionals must carefully plan their events to make sure all attendees feel a part of the overall experience. The following strategies will help you celebrate diversity throughout your agenda:
Avoid event dates that coincide with religious holidays in different faiths.
Provide multi-faith prayer rooms for use during the conference.
Ensure your venue has access to lactation rooms for nursing mothers.
Accommodate requests for food-related restrictions, religious norms, and health considerations.
Provide clear labeling of food options, listing any ingredients that may cause allergic reactions.
Plan a menu that incorporates and celebrates food staples from various cultures.
Provide a "mocktail" menu and alcohol-free drink options at the conference happy hour.
Plan activities and sessions that celebrate diversity, equity, and inclusion topics.
When distributing your agenda to attendees, don't forget to prepare event materials in different languages to make sure everyone has equal access to information. Your mobile app should also be accessibility friendly.
5. Select keynote speakers and presenters who reflect diversity.
Keynote speakers have the power to set the tone for your conference or event. The right presenter will not only add meaning to your event but also highlight your industry's unique perspectives.
Today, there is an increasing demand for presenters who reflect the diversity of the audience. In other words, your audience will struggle to identify with your programming if they do not see accurate representation. Choose a diverse speaker who has fresh viewpoints on business trends, social justice, workplace culture, and more. Even better, hire women or Black, Indigenous, and People of Color (BIPOC) as speakers, presenters, and panelists.
Session moderators, too, play a part in creating safe event experiences. Moderators must keep panel discussions appropriate and civil, while also ensuring all voices are heard in a professional manner.
Tag Tip: Do not hire BIPOC speakers to speak on diversity alone! While DE&I issues are important, people of color have much more to speak about than racial inclusion. Instead, hire BIPOC speakers to talk about leadership, innovation, event technology, or other insightful topics.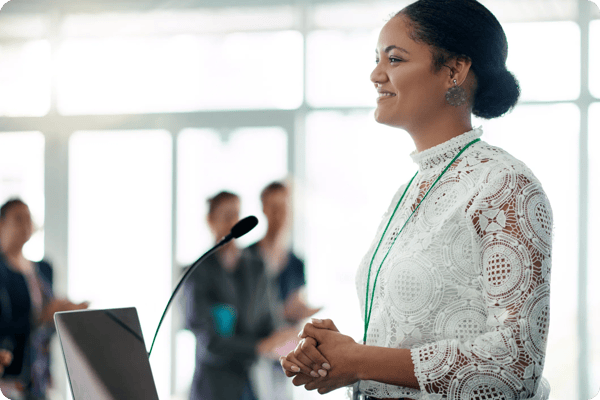 6. Offer pronoun ribbons for attendees' event badges.
Pronouns are used to refer to someone in place of their name or in the third person. For example, pronouns include he/him, she/hers, and they/them, though it is up to an individual to decide which pronouns work best.

It is important to avoid making assumptions about a person's identity or pronouns based on their appearance or name. Using a person's correct pronouns is a surefire way to create a more inclusive environment, no matter what a person's identity is.

Want a fun, eye-catching, and cost-effective way to display personal pronouns? The Pronoun Badge Ribbon pack includes 100 stackable badge ribbons that attach to a person's badge in seconds. Use these badge ribbons to provide a proper introduction and the ability to visually communicate your pronouns.

7. Host a post-event strategy discussion and survey.
Your event is over. Exhibitors are packing up, speakers are closing out their presentations, and attendees are saying their final goodbyes. But is your event really done? Now's the time to initiate one of the most critical components of the event management cycle: your post-event strategy. Unfortunately, this is an area where many planners struggle.
When it comes to championing diversity, data collection, and attendee feedback are a must. Once your event has concluded, conduct the following:
A post-event meeting where feedback is reviewed by your team.
A post-event discussion with vendors where feedback is reviewed.
A game plan on how to incorporate feedback at future events.
Measure your progress, set targets, and hold yourself accountable. Make sure to give attendees a variety of ways to give feedback, whether it is via email, mobile app, or an online form. Your post-event survey should ask specific questions on how you can make the event experience more welcoming in the future.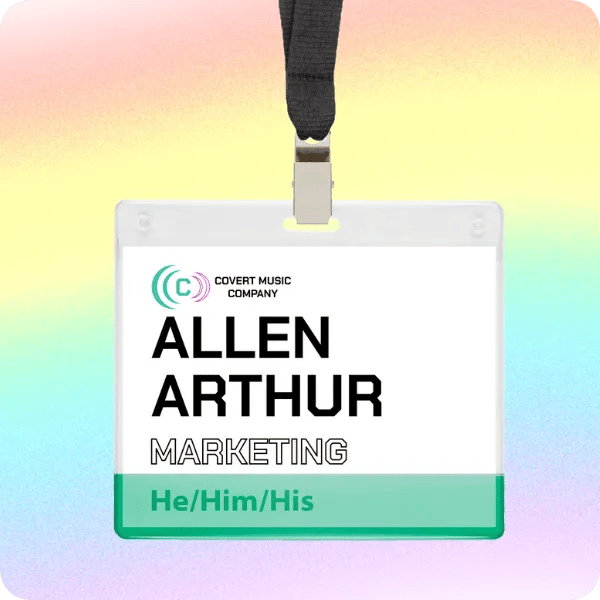 How will you embrace diversity, inclusion, and acceptance at events?
The exciting thing about diversity is that it challenges us to foster connections, drive innovation, and build on each person's unique strengths. DE&I is the key to embracing new strategies and accommodating different styles of thinking—one event at a time.
Are you hungry for more ways to embrace diversity, inclusion, and acceptance at events? Download the Diversity, Equity, and Inclusion Event Planning Checklist to find specific tips for being more inclusive of people at events.
Then, leave a comment below with how your organization is taking steps to bring attendees together for meaningful, inclusive event experiences. We can't wait to hear your ideas and strategies!