Social media has become such a powerful facet of a successful marketing strategy, especially in creating brand awareness, fostering meaningful connections with your target audience, and generating sales with retargeting strategies.
However, it's not always as easy as it sounds. Being a social media content creator for your organization can be intimidating, but have no fear! Anyone can leverage the power of social media marketing with these top tips for creating posts that get seen, connect, and convert.
1. Develop your brand voice
Some of the most successful brands and influencers on social media might not be who you think they are. Brands like Wendy's and the midwestern gas station chain Kwik Trip probably don't sound like they'd have loyal followings on social media. In reality, these companies have developed a unique and funny voice that keep followers returning to their pages to see what they'll post next.
While a humorous approach may not make sense for every brand on every platform, it is still important to develop a brand voice. As social media has been around for over 20 years now, most users see right through the run-of-the-mill corporate jargon and brand speak. They will not give the time of day to accounts that post the same self-promotions but in different words day after day. Consumers want to be entertained, feel understood, and find value in your content.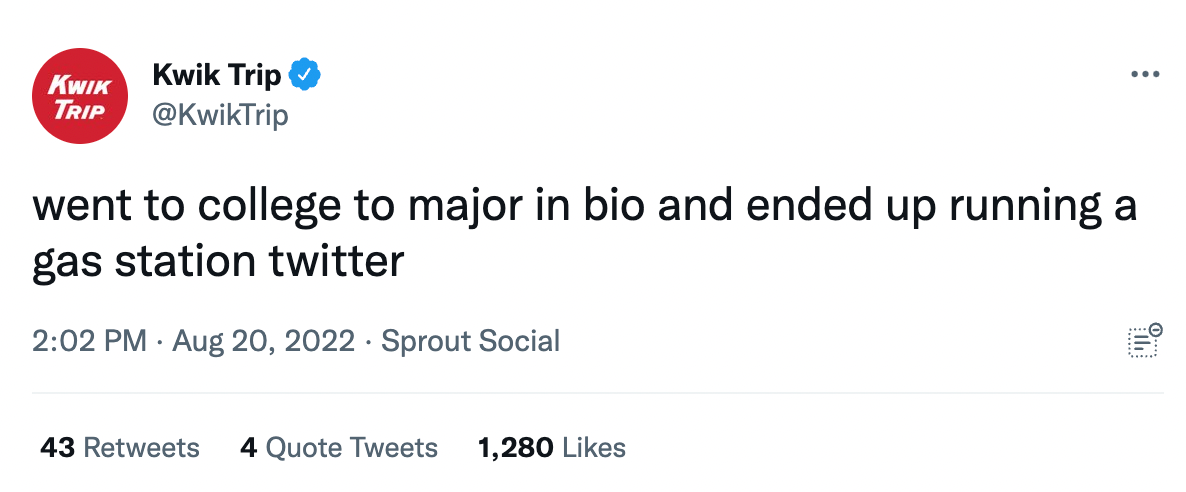 Kwik Trip has developed a unique voice on Twitter that goes over well with Gen Z fans.
The rise of influencer culture has pushed brands to be more "relatable" in their social media strategy. While brands like Wendy's and Kwik Trip, for example, use social media to post memes and jokes, others develop their "voice" by having honest interactions with followers and featuring interesting content.
The key is to be human, not a robot. Your posts should sound like an actual person is writing them, not like they have been copied and pasted from a corporate document.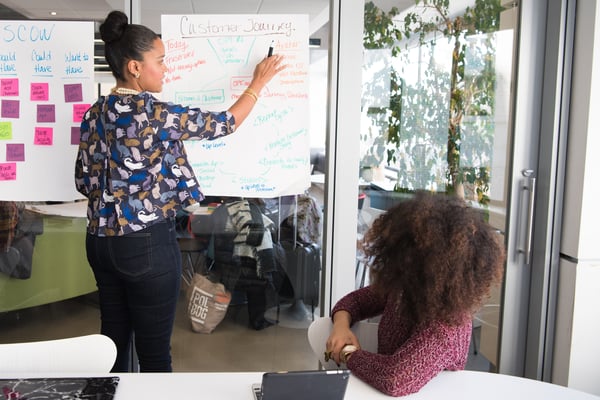 2. Research the platforms your audience uses, and know the ones they don't
Marketers know there are a lot of social media platforms out there. Most people think of Twitter, Facebook, LinkedIn, YouTube and Instagram as the primary channels to promote their brand, but today, there's also Snapchat, TikTok, Pinterest, Tumblr, Reddit and others.
There's a misconception among some marketers and social media managers that they need to be on every social media platform to stay relevant and grow their audience. This simply isn't true, nor manageable. Take time to learn your target audience, identify which platforms they use most frequently, and focus on nailing those first.
TikTok, for instance, is a newer platform and one of the better ones for growing organically. This makes it a great tool for many organizations, especially those with a younger target audience in the "Gen Z" and "Millennial" age bracket.
However, if the target audience consists primarily of people in their 50s and 60s, it may be worth your time to build up other platforms first before you start creating trendy TikTok videos.
Two great tools for researching your audience are Respona and SparkToro. With SparkToro, you can identify which social platforms your audience uses most. You'll also find podcasts they listen to, websites they visit, hashtags they use most frequently, and even which political affiliation they lean towards. You can use this information to evaluate advertising opportunities and refine your brand voice.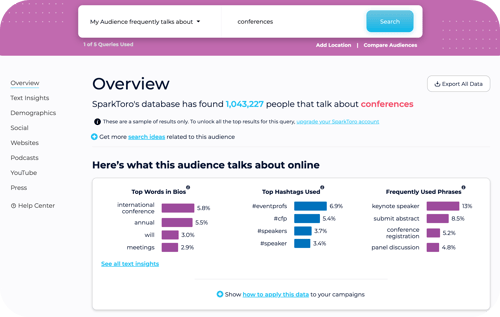 SparkToro is a great way to find information about your audience based on what they frequently post on social media.
One tip that has helped in our own social media marketing strategy is to identify the three to five top platforms where your audience spend the most time, and develop a unique "mission statement" for each of those platforms. The key is to work smarter and not harder when it comes to your posts.
For instance, your TikTok's primary purpose may be to entertain, while your Facebook is used for company culture posts and your Twitter used for customer service and community management. Not every brand will use every platform in the same way, so it's important to find out what works best for you.
3. Share more than just your own content
Is your business's social media profile filled with nothing but self-promotion posts? If so, it's time for a change. In these situations, you run the risk of coming across as too "sales-y" and self-serving, and your followers' social feeds are probably filled with enough advertisements already.
Instead, make your page more appealing by sharing content from other brands and influencers alongside your own original posts. If you see something you think would be helpful or intriguing to your audience, share it! Add value by including your own insight, asking a question, or highlighting a useful quote when you share.
A key tip when it comes to sharing content on social media, especially something like a podcast or blog post, is to make sure the post itself is helpful without requiring a click-through. You want your posts to get shares, and people tend to prefer sharable content that is useful at face value.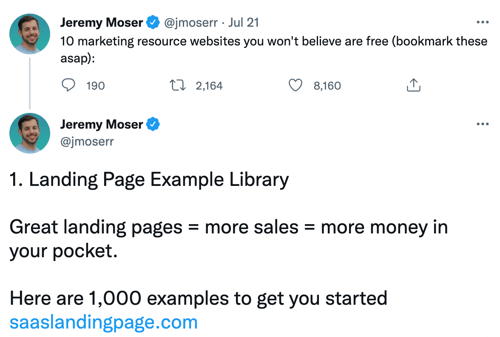 This Twitter thread highlighting useful resources for marketers has 190 replies, over 2,000 retweets, and 8,000 likes.
For instance, you could create a thread of useful online resources that would be helpful to your potential prospects. Or, turn a popular blog post into a short Twitter thread highlighting the key points of the blog, and then link to the blog post in the final tweet of the thread for more details. This will perform better than linking to the blog right off the bat and expecting people to click through. You need to build trust first.
Don't forget to tag the influencer or brand that originally posted the content so they will see that you enjoyed their post. Not only can this be a great way to build relationships within your industry, but it could also inspire opportunities for cross-promotions or guest blogging in the future, both of which can improve your content strategy and grow your audience massively.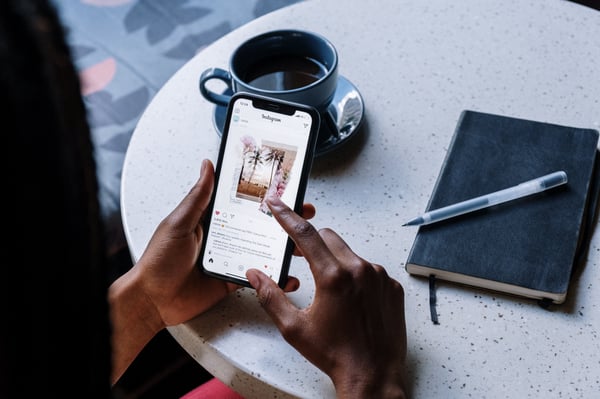 4. Start an industry-specific Facebook group
The Facebook algorithm has gone through some major changes in the past few years, and it's now incredibly unlikely that organic posts from your business page will be seen by your followers. Facebook instead prioritizes family and friend content, paid advertisements, and group content in its users' newsfeeds.
Facebook groups are at their peak in popularity, so try creating one to take advantage of organic growth opportunities. Make it a fun, casual space for your fans, followers, and potential prospects to interact with each other. Try not to make the group topic directly related to your business, unless your brand is already well known and adored.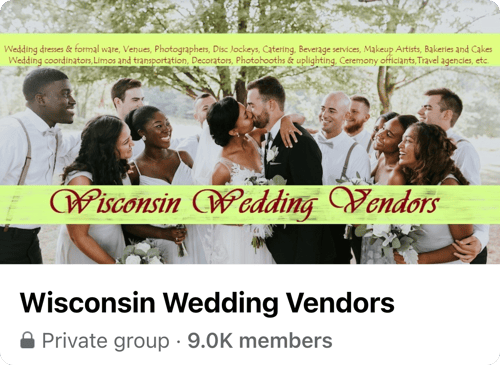 This group was created by a wedding DJ based in Wisconsin and has grown to over 9,000 members.
Instead, think of a fun topic or a problem that pertains to your industry or business. For instance, if you work for a wedding planning company, try creating a group with a fun name (like "Wedding Wins" or "Wedding Ideas I Wish I Had Thought Of") that encourages brides and grooms to share photos of their big day and advice with others who are planning their wedding.
As the group admin, you can add comments and posts about your own products and services, but only when appropriate and applicable. You can also make the group private and add qualifying questions for new members to make sure your group participants are legitimate and interested in the topic.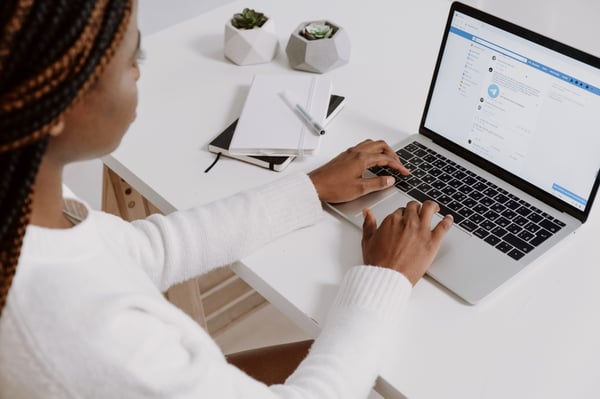 5. Promote your content through paid advertising
One you have created awesome, relatable social media content on the right channels for your audience, it's time to make sure that people see what you're posting. Like we mentioned, algorithm changes have made it increasingly difficult for content to be seen organically. This means finding promotional opportunities is key to increasing your reach and, by proxy, your web traffic and revenue.
Leveraging paid social ads is key, as all social media platforms prioritize ads over organic posts. Most platforms have the option to create advertisements once you have a business profile. Start by creating a Facebook and/or Instagram ad since they have the most user-friendly interface. Target your page's followers with a simple product or service advertisement to see how it goes.
Once you are able to, try out some retargeting strategies. Make sure your website is set up with a Meta Pixel so you can target those who have visited a specific page of your website with a relevant ad. While the "Rule of Seven" that states someone needs to hear a brand message seven times before they take an action is old, it still applies today. Make sure your prospects are seeing your message multiple times, and you'll have a much higher chance of them converting.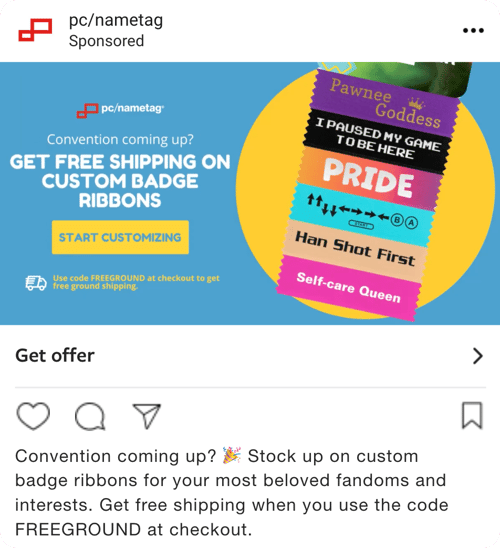 This social media ad we at pc/nametag ran targeted past purchasers who had events coming up to advertise a familiar and relevant product with an exclusive promo code.
Paid social ads aren't the only promotional opportunity out there, though. Influencer marketing has also been a massive trend in recent years. Identify key influencers in your space and find out how you can work with them in a mutually beneficial relationship.
For example, send them a free product in exchange for an honest review in a TikTok video or Instagram story. Give them a specific offer code to promote, and in return, they'll get a portion of the revenue generated using that code. Ensure there is a contract with timeline and terms laid out ahead of time.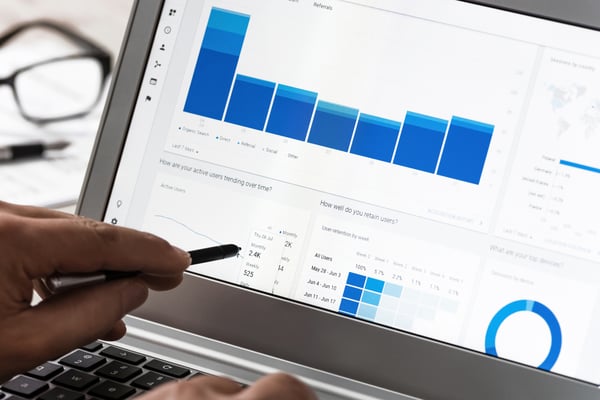 A final tip on successful social media marketing
The Internet contains a goldmine of useful tips, tricks and tools to help you take full advantage of the crazy world of social media marketing.
The Internet contains a goldmine of useful tips, tricks and tools to help you take full advantage of the crazy world of social media marketing. While there's no "right" or "wrong" way to handle your organization's social accounts, the greatest advice we can give is to not be afraid to do something different.
Your social profiles don't have to look like all your competitors. In fact, it's probably best if they don't! While there is no magical formula for going viral, prioritize trying new things and helping your audience feel more connected to your brand. Remember, building a successful social media strategy takes time.
Tell Us: What's your best social media advice?
What social media hints do you have to share? If it's useful to you, chances are it'll be useful to someone else. Let us know by leaving a comment below. 💕

READ NEXT: