On July 24th, 2020, I attended an expo with thousands of participants during the middle of a pandemic — and I loved it!
The Florida-based hybrid expo I attended was called the Together Again Expo 2020 and I had the opportunity to attend virtually from the comfort of my own home in Wisconsin. The goal of the expo was to showcase strategies for hosting events during and after the COVID-19 pandemic. A total of 4,700 people registered, including both in-person and virtual attendees.
While I am no stranger to attending expos, this one was my first-ever event that I've attended as a virtual participant. I learned many valuable lessons that I'd like to pass on to my fellow event planners, so here are the five biggest takeaways I gained as virtual attendee that I hope you'll find useful.
Lessons Learned: 5 Strategies for Your Next Virtual Event
1) Give virtual attendees the same level of direction you'd give to in-person attendees.
As I logged into Vimeo to begin my day as a virtual event attendee, there seemed to be a bit of confusion from other virtual participants surrounding basic logistics. Here are some examples of real comments I observed in the virtual chat log:
"Are there instructions listed anywhere for virtual attendees?"
"How do we virtually access the live expo coverage and booth interviews?"
"Do we remain [on Vimeo] to view the live content?'
"Is there an interactive, electronic floor plan of the expo hall?"
"Has anyone found a twitter hashtag for this event yet?
"Does anyone know if you have to register for the sessions or just show up?"
"Is anyone monitoring the virtual component of this event?"
Amid the confusion, it seemed that some virtual attendees were experiencing FOMO ("Fear of Missing Out") because they didn't feel they were being included like in-person attendees were. The truth is that virtual attendees are just as important as in-person attendees. Make sure to give them the love and attention they're looking for!
To fix this confusion in the future, I'd suggest creating a web page or a downloadable Q&A guide dedicated to answering virtual attendees' basic questions. Not only will this reduce confusion, it will also put people at ease and help them enjoy the event without needing to worry about basic logistics.
Consider answering these questions in your virtual attendee Q&A section:
What is the schedule for the virtual event?
What are the sessions called? Who is speaking at each?
What video platform can virtual attendees use to access event content?
Do virtual attendees need to sign up for sessions or show up to a live feed?
Are virtual attendees able to access electronic expo booths? If so, how?
What hashtag can attendees use to tag your event on social media?
How will the chat log and social channels be moderated?
Will on-site photos or video be taken for virtual attendees to view during the event?
2) Over-communicate how your event handles social distancing, safety measures and cleaning protocols.
One virtual attendee of the Together Again Expo said it best:
"As a PR professional, I can tell you this is the time to OVER-communicate. If you're cleaning and sanitizing between sessions, that's great — show us! Virtual attendees want to know what's happening off camera."


- D. Channing Muller, Principal, DCM Communications
Another virtual attendee made a great point:
"We all know the various protocols and guidelines for the venues and show floor, but I'd love to hear about guidelines and protocols for exhibitors within their spaces. It would be nice to see how the exhibitors are interacting with the attendees on the show floor."
The Together Again Expo showed several videos of how staff were keeping people safe, including temperature screenings, social distancing floor stickers, mask requirements and hand sanitizer stations. However, many virtual attendees expressed the desire to see live video of how social distancing and sanitary protocols were being maintained.
For example, virtual attendees wanted to view a live stream of socially distanced attendees wearing masks. They wanted to see chairs/tables spaced six feet apart and cleaned between sessions. They wanted to observe how booths were spaced out.
When it comes to live video content, my suggestion is to have someone physically walk the show floor and show virtual attendees a personal perspective of the event from registration, to booths, to session areas.
3) Create a strategy for how microphones will be handled.
It's no secret that microphones can be a breeding ground for bacteria, especially when they are handed from person to person at an event. They are spit on, sneezed on and handled from the top down.
Throughout the Together Again Expo, I was pleasantly surprised to see that all speakers were given their own microphones to use, whether they were clip-on or handheld. I thought this was a great alternative to sharing a podium mic.
TIP: If you use a boom mic to interview speakers, be aware of noise levels and reverb in your event space.

Boom mics are a sanitary alternative to handheld mics, but they can pick up excessive background noise from the expo hall which can make it difficult for virtual attendees to focus on what speakers are saying. You may consider having speakers wear both a mask and headset-style mic when presenting instead.
4) Keep event sessions educational in nature.
Traditionally, people have always loved the food, entertainment and décor of events. But the biggest reason they attend your event is to learn. It is up to event planners to make sure that attendees leave with maximum value from educational sessions.
The Together Again Expo had a variety of great educational sessions throughout the day. Between these sessions, virtual attendees were able to watch several mini interviews with expo vendors. However, some attendees noted that the mini interviews were a bit too "salesy" in nature.
In general, it's a good idea to leave product pitches at the expo booth. The primary focus of sessions should always be on education, since this is one of the best ways to open dialogue, build brand trust and help buyers feel that their industry challenges are being heard.
Once credibility is established, now is the time to connect with buyers and showcase products/services that can alleviate pressing problems and challenges. Close your next presentation with an invitation to the booth and talk shop there.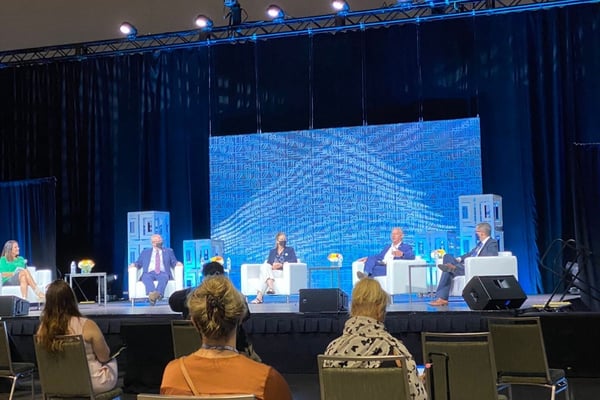 Image Source: Susan Storey

5) Find innovative ways to keep virtual attendees informed and engaged with online sessions.
Let's face it: traditional lectures and presentations can be boring! No one likes to stare at a PowerPoint presentation for hours, no matter how interesting the topic may be.
In my opinion, the Together Again Expo did an amazing job with leveraging video live-streams of speakers to keep attendees engaged. Camera angles were constantly changed to give viewers a perspective of everyone on stage.
I was excited to see how well the expo did with panelist safety on stage. Speakers maintained a six-foot distance, wore masks unless they were speaking, had their own microphones and leveraged engaging slideshow content.
Here are a few helpful suggestions that I'd like to offer for future live-video broadcasts like the one offered at the Together Again expo:
Make speaker names visible on screen. This can be done by projecting the person's name or having them wear a large-format name badge easily seen by virtual attendees.
Project the session title at the bottom of the screen. Keep virtual attendees on track by emphasizing the topic of a session and eliminating the need to reference a separate agenda.
Leverage an on-screen countdown clock. This way, virtual attendees know when the next session will start (or if a session has fallen behind schedule).
Incorporate a variety of camera views. Virtual expo attendees expressed that they wished they could see a full view of the stage, as well as a pan of the audience from time to time.
Constantly brainstorm ways to break down barriers and get people involved, whether they're attending your event in-person or online. Encourage speakers to address online attendees and thank them for coming. Lastly, don't forget to remind speakers to take questions from virtual attendees as well as in-person attendees. Let's make everyone feel included!
So, what have we learned? Where do we go from here?
Hosting a virtual event or hybrid event is tough; there's no denying that. Attending the Together Again 2020 Expo was an amazing experience for me and thousands of other attendees. I am beyond impressed with the event's efforts to put on a successful hybrid show in such little time.
We must start somewhere, and the Together Again expo was a leading example that events CAN happen safely and effectively. As event planners, we can learn from this experience and observe first-hand how to improve events in the future. I'm curious to see how our industry will continue to navigate the challenges and rewards of the "new normal."
Share Your Virtual Event Strategies with Us!
Pivoting your in-person event to a virtual or hybrid event has been hard, but event planners are no strangers to a good challenge. By following the strategies listed in this article, you'll be well on your way to providing a memorable experience that makes virtual attendees feel appreciated and involved. For more insight, don't forget to download our ebook, The Guide to Hosting a Successful Virtual Event.
What's your best advice for putting on a virtual event that "wows"? If it's useful to you, it'll be useful to someone else as well. Leave a comment below to let us know your thoughts!
READ NEXT: