With the onset of COVID-19, the event industry as we know it has shifted. The need for virtual events, virtual gatherings and virtual conferences has become imperative as we constantly pivot to meet each state and county's new guidelines.
As planners, trainers and educators take their meetings, conferences and events online, the question quickly becomes, how do we drive connections and create a memorable experience virtually?
Start with the Right Virtual Event Partner
When transitioning your event from an in-person to a virtual event, first you want to find the right partner. Virtual event companies are your subject matter experts and should be there to help you through the planning process from start to finish.
Before choosing your technology partner, make sure you have a list of requirements assembled prior. Ask yourself the following questions regarding your virtual event:
Do I want to live stream my event, or have it pre-recorded?
Do I want attendees to be able to ask questions during or after a session?
Do I want a live chat feed for attendees to comment in real-time?
Do I want sponsors for my event?
Do I want to have a place for attendees to interact with exhibitors?
After you've answered these questions, it is time to start looking for your technology partner.
Once you have your selection made, start building your event schedule. As you begin to build your agenda, look for fun ways to break up session blocks and foster attendee engagement. Consider a morning coffee break, an afternoon meditation session or an evening happy hour.
Engage Your Virtual Attendees
When attendees are on site, every second of the day is filled with sessions, networking opportunities and wellness activities. Trying to recreate the in-person experience virtually may seem daunting, but with the right partner and event technology it can be a breeze.
Custom virtual kits are a great way to connect your virtual attendees while bringing the fun and excitement to your attendee's home.
Almost all attendees (and adults in general) will agree that getting something in the mail other than bills or notices is exciting. You could almost compare it to the feeling of walking up to an event's registration desk and getting a welcome packet or swag bag. It is that exact moment when you realize the wait is over, and your fun is just beginning.
Building anticipation for your next event can be as simple as opening a box of event materials or branded promotional products. Whether at home or on site, attendees want to feel like this is a personal experience planned just for them. Encourage attendees to get excited for their next event!
At pc/nametag, we work with you to help find the right tools to keep your attendees engaged throughout the day and into the night. Consider adding a theme or branding to a box of carefully curated products that set the mood and tone for your virtual event activities.
Design Your Virtual Attendee Gift Box
When designing your virtual attendee kit, you will want to consider your event's content, messaging and theme. Also, think about the types of wellness and networking activities you would like to have take place and what items would help facilitate this.
For example, you could promote health and wellness by offering a meditation or yoga class during your event. Include items such as a yoga mat, water bottle, stress ball and towel in your attendee's box.
Promote outdoor activities such as golf with a box full of branded tees, golf balls, golf towel and a gift card for their favorite course.
Schedule a fun run that encourages healthy competition and lets attendees brag about personal bests using a hashtag or chat room. Include items such as a t-shirt, sunglasses and a water bottle in their gift boxes.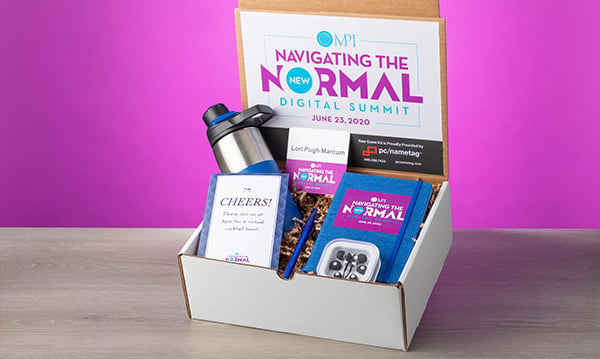 If you're doing an all-day education session, give your attendee a break with a box that includes a mug, coffee, tea, a notebook to keep track of thoughts and a handful of snacks to keep them energized in the afternoon.
And of course, don't forget a well-deserved happy hour at the end of a hard day's work. Add a cocktail glass or tumbler to their box or a small bottle of wine or spirits.
Your virtual attendees should feel that you thought about their wellbeing every step of the way just as if they were on site. Their experience at home should help remind them why this specific event is so important and build excitement for the next year's in-person event.
Think of Sponsorship Opportunities
Your curated kit is a great way to include sponsors in your virtual event and give them the opportunity to surprise and delight their prospects. Event sponsors want to receive the same amount of recognition regardless if the event is virtual or on site. Curated attendee kits are the perfect place to showcase sponsors or exhibitors in a fun and engaging way.
Consider giving your sponsor the opportunity to pick their product or include something that already has their information on it. Some sponsors might already have a product to add, which could save you money. Whatever the case may be, pc/nametag can put your items together to make a fun package specific for your attendee that gets delivered to them right before the event starts.
Build Connections with Name Tags
Not all virtual event platforms display the attendee or speaker's name. If you are allowing attendees to ask questions during sessions or interact with one another, badges will be helpful in seeing who they are speaking with. It is also a great way to pull in your branding.
Consider making their first name as large as possible and suggesting they wear it a little higher than normal to ensure it is visible.
While satin stickies are a type of badge, they deserve their own call out. They are low-cost, lightweight and easy-to-apply solution for virtual event name tags and badges. You can even use them as a sticker to identify attendees by their interests, role or industry.
Start Planning Your Virtual Event!
While the transition from in-person to virtual may seem daunting, pc/nametag is here to help you navigate this new normal. Reach out to us today for ideas, tips and tricks on ways to build engagement through virtual attendee kits.