Escape rooms, picnics, go-karting, scavenger hunts: There's no limit to the number of fun office games and activities to create a fun spirit week for your employees! Plus, it's never a bad time to show your team members how much you appreciate their contributions to your company. 💕 Having fun is the quickest way to improve employee engagement, skyrocket morale, and reduce turnover.
Want to provide your employees with an unforgettable week full of fun events they'll remember long after it's over? With a bit of coordination and creativity, you can host a team gathering or company party that's well worth the time and money.
Get everyone excited to participate with our list of top team-building activities as recommended by CEOs, managers, HR professionals, corporate event planners, and others.
What is workplace spirit week?
Workplace spirit week involves a business week filled with employee engagement activities in which teams, departments, or companies gather to have fun and strengthen bonds with their peers.
From themed days to spirit-raising activities, silly games, and friendly competitions, every activity has the potential to help teams build cohesion, solve problems, celebrate accomplishments, and strengthen company culture.
No matter your age, you're never too old to participate in spirit week. Think back to high school homecoming week or sports pep rallies. Remember how much fun it was to wear your school's colors, cheer on your team, and dress up in wacky outfits for spirit days?
Like high school spirit week, workplace spirit week can help your team form fond memories of a time when work was put on pause so everyone could have fun. Plus, who doesn't enjoy looking forward to a week full of fun and friendship? Themed activities are a go-to strategy for promoting work/life balance, showing appreciation to employees, and reducing employee burnout.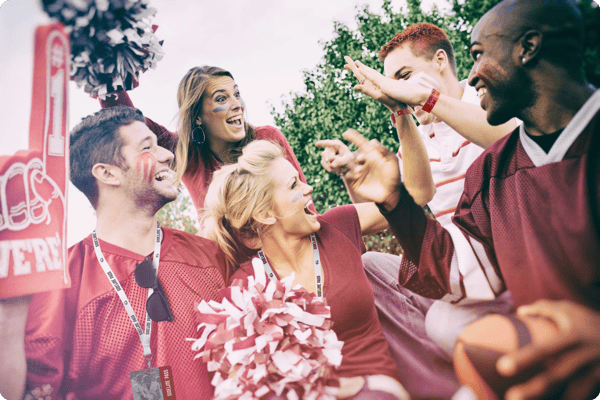 30 Theme Day Ideas for Work
Ready to inspire employees, build teamwork skills, and build lasting workplace friendships? Use the following list of our favorite employee engagement activities to get everyone excited to participate. We've also included fun work theme day ideas for celebrating spirit week at work.
Done right, you can use activities just like these to boost employee satisfaction, promote communication and collaboration, and improve employee retention.
1. Gather around a tiny campfire.
"Provide or mail s'mores kits that include marshmallows, graham crackers, chocolate, toothpick skewers, and a tealight candle to use as the flame. Then, play camp-style games like scavenger hunts, trivia, and more. Participants love this activity because it's nostalgic, a little whimsical, and great for getting to know your coworkers. Plus, it's all the fun of a traditional outdoor campfire without the mosquitoes!"

Michael Alexis, CEO of TeamBuilding
2. Create an island survival challenge.
"This team-building exercise uses clues to test the ability of each team member to handle an endeavor for the survival of the entire team. One member, for example, finds where a key is located based on a map, while another comes up with a solution to use items to get the entire team off the island. Conclude the activity by having each group tell a creative story about their adventure. This exercise can be done in a local park and include a picnic at the end."

Greg Jenkins, Partner at Bravo Productions
3. Give each other the worst gift ever.
"One of my favorite themed activities for a workplace gathering is the 'worst gift ever' party. Everyone brings a wrapped gift that they either received themselves or that they think is just terrible. Then, we all took turns opening our gifts in front of everyone and trying to guess who gave us which gift. It's fun to see what people come up with, and it's a great way to break the ice and get everyone laughing. Plus, it's just a unique and different way to do a workplace gathering."

Burak Ozdemir, Founder of Alarm Journal
4. Get wild for Wacky Wednesday!
"I had a retail team who decided that every Wednesday would be Wacky Wednesday. Some days, they all wore weird hats. On other days, they wore outrageous hairstyles, fun wigs or evening gowns to work. They had so much fun planning and executing this! Customers even started dropping by on Wednesdays (which was typically a slower sales day) just to see what my team was doing. It got so big, we would post what the theme was and invite customers to participate as well—and they did!"

Claire Pearson, Life & Business Coach at Claire Pearson Coaching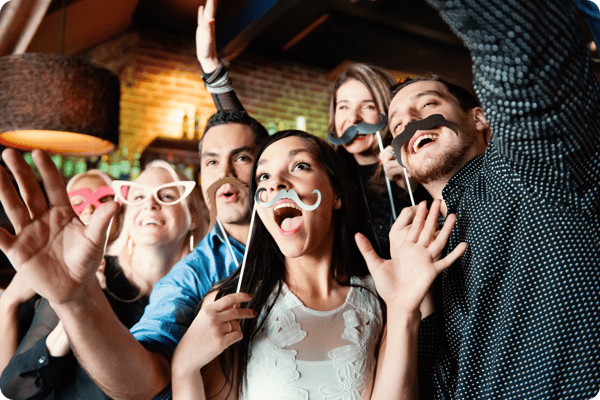 5. Play a game of human bingo.
"Split into teams of six and complete a list of challenges like: Find someone who likes jazz or Get a picture of someone making an origami swan. The end goal was to get people out of their comfort zones, doing stuff outside their normal day-to-day jobs, encouraging everyone to leave their desks, be creative and get to know each other better. It's easy for us all to sit in our own silos and not interact with people outside our little bubble so this kind of thing is great for bringing everyone together."

Vartika Kashyap, Chief Marketing Officer at ProofHub
6. Dress up as characters for movie day.
"Recently, we all decided on a movie (Austin Powers won, unanimously) and picked characters from the movie to dress up as while at work. Movie days are a regular occurrence, as well as era-themed days, holiday-inspired days, Taco Tuesday, Pizza Thursday—because why not? It's a great way for the entire team to have fun bonding while at work. We have enough stress in our lives. Making work fun is a great way to help relieve some of that stress."

Alex Mastin, CEO and Founder at HomeGrounds
7. Bring your picnic indoors with a potluck party.
"There's nothing more fun than bonding over food, and a potluck party is perfect for bringing employees together. The best thing about potluck parties is they give everyone a chance to participate, rather than formal office parties where the HR team is responsible for all the arrangements and the rest of the employees are expected to be present just for the sake of it. As a bonus, potluck parties don't need elaborate decoration."

Kevin Miles, Editor at LoanAdvisor
8. Host a 'Take Your Pet to Work' day.
"I planned a 'Take Your Pet to Work' day because everyone loves having their furry friend around the office! Before planning this day, I did a small survey to make sure everyone was comfortable with the presence of pets. My employees were delighted to bring their best friends to their workplace. If your office is not pet-friendly, you can consider taking this to a nearby park, an outdoor space, or a pet-friendly restaurant."

Will Cannon, Founder of Signaturely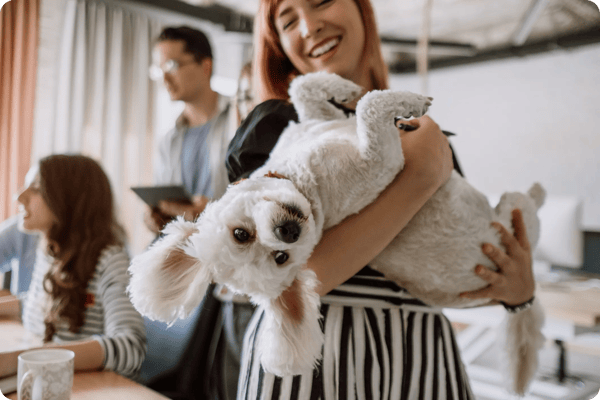 9. Create a competition to build the best taco.
"We had a team member who was originally from Mexico. He was incredibly passionate about authentic tacos. He continually dissed American tacos, to the point that it became a recurring joke to bring in tacos for lunch made as non-traditionally as possible! Eventually, we hosted a taco-themed event where everyone could participate in making tacos. Our team member was the judge, and it ended up being a lot of fun. It really brought the team closer together."

Brandon Li, Co-founder and CEO of Power
10. "Soak up the sun at a team cookout."
"A summertime BBQ is a great idea for employee engagement in warmer weather. This can be a collaborative group effort amongst team members, as everyone can contribute and bring an item to the cookout. Teams can work off each other's strengths as well, such as 1-2 people cooking, 3-4 setting up for the event, and another few as floaters to fill in wherever help is needed. This gets everyone involved in a fun activity that builds relationships and engages staff."

Corey Ashton Walters, Founder and CEO of Here
11. Solve the case with a riveting murder mystery party.
"We host many different types of events and activities at my firm throughout the year. One of my all-time favorites we successfully hosted was a murder mystery event. If you've ever attended a murder mystery with a bunch of attorneys, you will know that they go about it in a meticulous way, gathering evidence and treating it as if it were a real-life case. It was a big hit with the employees, and we are now thinking of making it an annual thing."

Ty Gibson, Attorney and Founder at Gibson Hill PC
12. Wear your ugliest sweaters any time of year.
"While most people are familiar with the concept of an Ugly Christmas Sweater Party, this theme can be enjoyed at any time of year. Employees are invited to come to work wearing the ugliest sweater (or outfit) they can find, and the entire company can vote on who wins first, second, and third place. While the day's theme may be ugly, the activities should all be in good humor!"

Katya Wildman, Designer and Founder at Bombshell HQ
13. Go for the gold with Office Olympics.
"Participants are divided into teams and compete in a variety of Olympic activities such as tug-of-war, relay races, and three-legged races. Rolling chair races, office supply treasure hunts, or conference table ice curling are also fun ways to incorporate the Olympics concept into your event. To ensure that no one walks away with an Olympic-sized injury, remember to provide helmets, knee pads, or other basic safety items."

Richard Mews, CEO at Sell With Richard
14. Celebrate the decades with themed breakout spaces.
"The 1960s, 1970s, 1980s, 1990s, and early 2000s — you choose! You can either focus your entire event on a single decade or mix all decades. Play the most popular tunes, dress in the hottest fashion trends, and prepare the greatest cocktails. If you opt for a multi-decade event, allocate different in-person venue rooms to different decades. For remote teams, have each online session showcase a different decade via your virtual platform."

Christopher Pappas, Founder & CEO at eLearning Industry Inc.
15. Bring the wonders of Old Hollywood to life.
"Old Hollywood is a great theme for a company function. Get out your evening attire for this fancy gathering, perfect for an evening gala or awards ceremony. Serve a delectable meal and champagne, and if possible, arrange for meals to be sent to remote team members. You can hire a photographer to get stunning images of your guests dressed to the nines. Involve both audiences in a game of Hollywood trivia based on well-known films, actors, and movie phrases."

Marc Bishop, Director of Business Growth at iDigiMagnet
16. Flex your culinary skills at a team bake-off.
"The Office Bake-Off is my favorite activity for a workplace gathering or themed occasions. Take a cue from The Great British Bake-Off, a television classic. Have each team member make a delicious treat for the competition. Create a dedicated food station and have others vote on who will win. Plan to ensure you have a variety of sweet and savory goodies. After the winner has been determined, you will be left with a food buffet for the team to enjoy."

Vaibhav Kakkar, CEO at Digital Web Solutions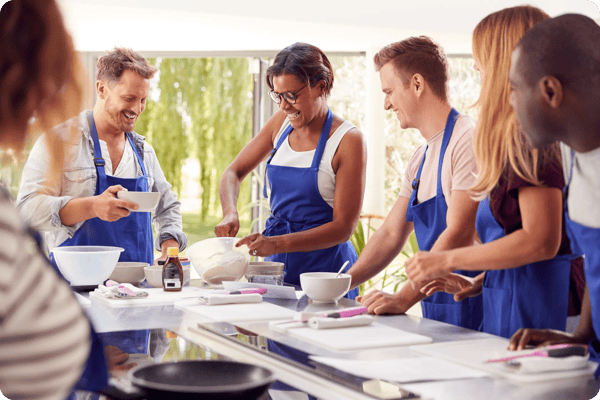 17. Put skills to the test in an escape room.
"Escape rooms are one of my favorite team-building activities because it's a great way to help people connect. Everyone is having fun working together to achieve something without work environment pressure or expectations. Throw some competitive spirit in the mix by having departments compete to see who escapes the fastest! This activity helps build team spirit, and we all have a great time doing it."

Mark Webster, Co-founder of Authority Hacker
18. Gather for an epic board game tournament.
"Whether it's a childhood classic like Monopoly or a modern spin on Cluedo, everyone in the office likely has a favorite board game. Set up board game stations by asking each employee to bring in their favorite game. Each department or team can participate, and you can even form a team and compete. This is a fantastic method to engage employees' minds, promote fair competition, and bring the entire team together. Make the event more meaningful by providing lunch, coffee, and light snacks."

Charles Helms, Founder of Tracking Advice
19. Form a compliment circle for workplace meetings.
"This easy activity costs nothing and will inspire your team to give thanks to one another. Spend five minutes at your meeting having individuals give compliments to one another on whatever comes to mind. For example, 'I wanted to tell Claudia how much I enjoyed her proposal this week' or 'Special thanks to Joseph for bringing in cupcakes last week.' Alternatively, you can have each address their coworker to their right, allowing everyone to shine."

Robyn Newmark, Founder & CEO at Newmark Beauty
20. Hit the tracks for a day of go-kart racing.
"Go-karting is my favorite activity for a company gathering because it adds a touch of competition to the day. Prepare for an ultimate go-kart race and get your adrenaline pounding! This is also an excellent business team-building activity that is reasonably simple to organize. With go-kart tracks across the country, this is a fun event that anybody can participate in. You can even make this an evening activity by going to your neighborhood pub for a few beers afterward."

Dr. Elizabeth Lombardo, Ph.D.,

CEO and Keynote Speaker at Elizabeth Lombardo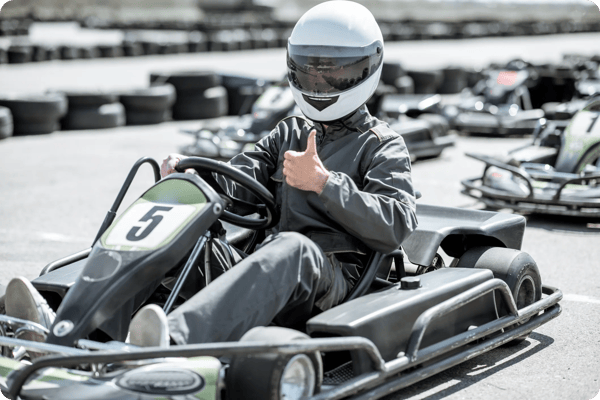 21. Take your best guess with a game of Guess Who.
"Guess Who is an excellent game for the entire team to play. Instruct participants to jot down anecdotes, stories, or facts about themselves on a piece of paper. The more unusual or fascinating it is, the better. After that, we have somebody pull out a piece of paper and repeat the story during the event. Participants must guess who wrote what. This is a creative way to encourage problem-solving and encourage team members to learn more about each other."

Haris Bacic, Co-founder and CEO at PriceListo
22. Create activities inspired by a great book.
"One event we did revolved around the book Think Bigger Than Big. It was a hit. I took themes from the book and built different team-building activities around them. For instance, we 'overcame fear' by taking a helicopter tour to conquer a fear of heights. To help attendees 'see and empower themselves,' we had a photo station. Lastly, we had a coach come in to inspire them with ways to 'think bigger.' Not only did every attendee get a copy of the book, but they also seemed really motivated after the event. It made people evaluate how they approach their work in the future."

Valerie Bihet, Director at VIBE Agency
23. Get food involved with a scavenger hunt.
"We recently did a scavenger hunt and divided everyone up into teams where they had to find things around the office. Prizes and celebrations almost always involve food; you can't ever go wrong with that. We have ax-throwing on the schedule next."

Amanda Kilpatrick, Head of HR at Way.com
24. Put team talent on display with a talent show.
"A talent show allows employees to put themselves in the spotlight and show off their strengths that team members may not know about. This also gives them the opportunity to work together. For example, two employees can write a song - one singing and one using an instrument. Workers can show their support and appreciation in a non-competitive way. It's also just a fun and productive idea to collaborate and connect with each other in a friendly environment."

Lillie Sun, Growth and eCommerce Manager at Three Ships Beauty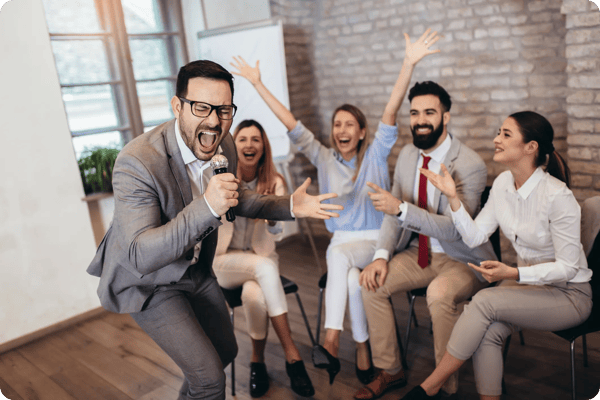 25. Host an Olympic sports rejects party.
"One of my favorite themed work events is an Olympic sport reject party. We had the whole team come up with sports that were rejected from the Olympic roster and dress up as someone who participated in that sport. Everyone else then had to guess the sport. This was great fun, plus we a lot of creativity from the entire team. Themed work events are great team-building exercises when you can make them fun enough that the whole team looks forward to participating."

James Green, Owner of Build A Head
26. Explore your town with a local scavenger hunt.
"A scavenger hunt is a hassle-free corporate party idea to get everyone working together. You can make this activity easier by downloading a scavenger hunt app, exploring your local city, or indulging in a race to a specific location. I love this idea because you can personalize it by theme, location, or work event type for a truly magical corporate party experience. Don't forget to offer a super cool gift to the winner or winning team."

Madilyn Hill, CEO of TruePersonFinder
27. Host a work sports day.
"Get social and active with a work sports day! These are fantastic team-building events that enhance healthy competition. If you work in a traditional office, your employees will appreciate getting outside for the day. Go to your local park and set up an area where you can play a range of quick games. Split your team in two and get some t-shirts printed for each unit. The winning team can get a prize, like a half-day of PTO or a complimentary dinner."

Theola Tinny, Co-Founder at VinPit
28. Support a cause by hosting a charity office party.
"Working together for a worthy cause creates a bond between comrades. A charity-themed party is engaging and brings awareness to causes that align with your brand's vision. For instance, your company's commitment to education can help a local school's book drive."

April Maccario, Founder at Ask April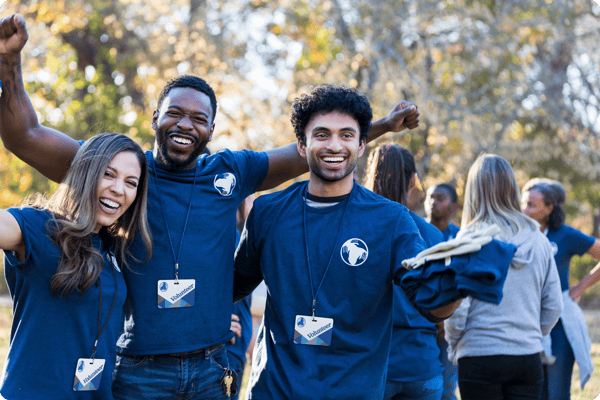 29. Test your skills with back-to-back drawing.
"Last year, we organized a back-to-back drawing event. We divided everyone into pairs, then asked them to sit back-to-back. Give one person an image, preferably something simple and straightforward (I.e., a piece of fruit, a barn, a farm animal), and the other person a piece of paper and pencil or pen. The person with the image must describe to the "artist" what to draw, without coming right out and saying the name of the item. This is a simple, collaborative game that results in much hilarity and fun."

Laura Jimenez, Owner and Team Leader at Ishine365
30. Get groovy at an office-wide '70s party.
"We have had great success with our themed office parties, especially our holiday parties. We always have a great turnout, and everyone has a lot of fun. Our most recent party was a '70s-themed party, and it was a blast. We had disco music, everyone dressed up in their best '70s clothes, and we even had a positive message board where people could write notes to their co-workers. It was a great way to get everyone in the office involved and having fun."

Gergo Vari, Founder and CEO at Lensa
Free Guide: Get Employee Engagement Tips and Advice
At the heart of every organization are its team members—the people who work hard every day to keep operations afloat. Take time to show your appreciation for their dedication and drive to make every project a success.
Remember, there is always something to celebrate around the office! Use corporate party ideas like the ones listed in this article to help team members feel motivated, supported, and appreciated by their peers at work. Get even more inspired with these articles from the Tag Talk Blog:
Don't forget to download The Essential Employee Engagement Toolkit full of tips and tricks your team needs to be successful throughout the year.