Think about the last time someone recognized you for a job well done. Remember how you felt? That rush of happiness and excitement you experienced is exactly why showing appreciation to your team members throughout the year is so important. ❤️
Appreciation is a basic human need. People want to feel good about themselves and know that their work is valued. By using employee appreciation ideas to recognize teams regularly, you'll see their satisfaction and productivity rise. They'll also be more likely to put in extra effort without being asked.
Looking for virtual employee appreciation day ideas for your remote team? Your crew will love this list of creative virtual team recognition ideas, perfect for in-office and remote employees alike. Everyone deserves to feel included and appreciated!
11 Virtual Recognition Ideas for Teams
1. Host a virtual awards ceremony for employees.
Who said award ceremonies have to be in person? A virtual award ceremony can be just as fun and engaging for employees. Your team will love having an interactive way to highlight their achievements and feel individually recognized for the outstanding work they do throughout the year.
The key to a great online awards ceremony is to create meaningful moments that feel personal and genuine. Use the following virtual awards ceremony ideas to get started.
Virtual Awards Ceremony Ideas:
Highlight each team member by sharing ways they embody the organization's core values.
Collect nominations and peer recognition highlights using Google Forms or SurveyMonkey.
Mail employees their awards beforehand, then open them individually on camera.
Host a virtual happy hour with a cocktail or mocktail kit mailed to employees' homes or offices.
Make a "toast" to your team by sending a s'mores kit to use and enjoy during the ceremony.
Compile a highlight reel of great team moments, stories, and successes from the year.
💡 IDEA: Consider reimbursing the cost of coffee, lunch, or dinner with a food delivery gift card from GrubHub or EatStreet. 🍕🌮 This way, attendees can share a meal or treat from anywhere in the world.
💃 GET DRESSED UP: Why not invite attendees to participate in a fun dress code? The dress code can be simple, like inviting employees to wear your organization's brand colors, or intricate like Black Tie Affair. Don't forget to grab a screenshot of everyone bonding over their unique outfits!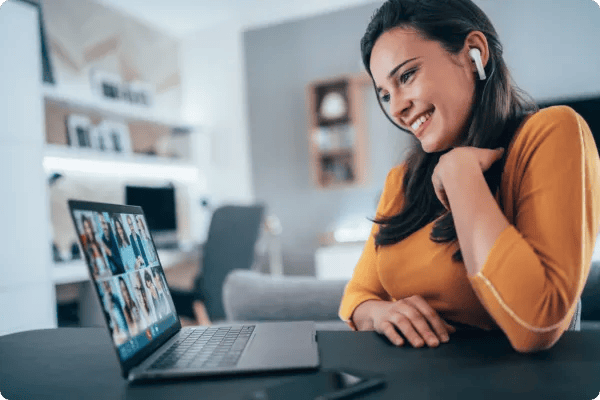 2. Design an employee appreciation zoom background.
Most often used on Zoom and Microsoft Teams, virtual video backgrounds are one of the easiest and most cost-effective ways to add personalization to remote team meetings. Virtual backgrounds are sure to get employees laughing, bonding, and creating a fun atmosphere for your gathering.
You can create a custom virtual recognition background with graphic design software like Canva. Not only is Canva free, but you can create a Zoom background using a pre-made template. Just upload your logo, artwork, or images to the photo library, and voila! You have a professional-looking background to share with your team.
💡 IDEA: Try making the background look like a stage, a red carpet, an auditorium, or a theater to tie into your ceremony theme. You can also nominate an Employee of the Month and provide them with a fun virtual background that can be displayed on internal calls.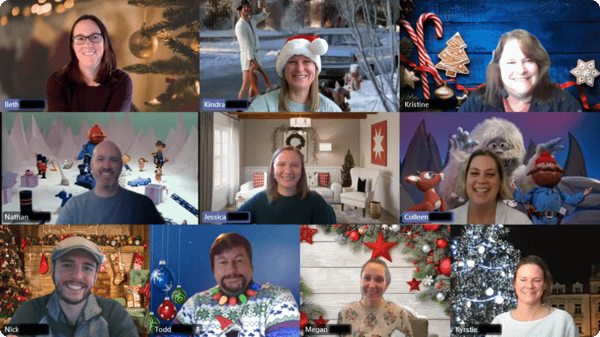 The pc/nametag Sales Team dresses up in festive outfits for a holiday virtual meeting.
3. Gift virtual incentives and prizes to employees.
Virtual gifts are great for everyone whether your team members live locally or across the world. Not only are they low-waste, but they're also a great way to show appreciation to your entire team no matter where they live.
Want ideas for rewarding remote employees and in-person employees alike? The key is to ensure your virtual gifts match your recipient. This list of creative and thoughtful virtual gifts will help you create a great impression while also flexing your creativity skills.
Virtual Prize Ideas for Employees:
A digital gift card to a restaurant, coffee shop, brewery, or wine bar
A digital gift card for a streaming service (i.e. Netflix, Hulu, Disney+, Peacock, HBO Max, etc.)
A gift certificate for an online class (i.e. a cooking class, a mixology course, etc.)
A voucher for an online fitness membership or exercise classes
An office supply gift card to improve their home workspace
Tickets to a local sports game, concert, festival, or event
A gift card for a meal kit service like HelloFresh, Blue Apron, or EveryPlate.
A donation to the winner's charity or non-profit organization of choice
💡 IDEA: Provide everyone with a curated gift box filled with company-branded prizes. Include useful items, such as company apparel, a journal and pen, sunglasses, a water bottle, healthy snacks, a professional development book, and a handwritten thank-you note. See more gift ideas here!
4. Surprise them with funny office superlatives.
Superlatives, accolades, shout-outs: Whatever you like to call them, use fun awards to your advantage! People love every chance they can get to celebrate their achievements, especially in playful and entertaining ways.
Why not host an impromptu award ceremony or recognition event for your team? We love the idea of handing out lighthearted office awards to highlight the meaningful ways your remote team makes a difference:
Fun Awards for Employees Working from Home:
"Black Hole Award" – for the employee who's always losing things on their desk.
"Brainstorming Wiz Award" – for the employee who brings new ideas to a project.
"Calmer of Storms Award" – for the employee who keeps calm during stressful projects.
"Coffeeholic Award" – for the employee who drinks lots of coffee.
"Confetti Award" – for the employee who's always eager to celebrate team successes.
"Dad Joke Master Award"– for the employee who is always cracking dad jokes.
"Duct Tape Award" – for the employee who can fix any problem.
"Early Bird Award" – for the employee who's most likely to arrive first at meetings.
"Energizer Bunny Award" – for the employee who brings top-notch energy to group projects.
"Geeksquad Award" – for the employee who knows how to fix every technical issue.
"Giphy Award" – for the employee who's always sending .gifs in the group chat.
"Green Thumb Award" – for the employee whose workspace is filled with plants.
"Icecube Award" – for the employee whose internet is always freezing on calls.
"Mission Impossible Award" – for the employee who pulls off a crazy deadline.
"Netflixer Award" – for the employee who's always recommending shows and movies.
"Next Top Model Award" – for the employee who's always wearing fashionable outfits.
"Office DJ Award" – for the employee who makes the best music recommendations.
"Paw-fect Companion Award" – for the employee with the cutest pet on their Zoom calls.
"Picasso Award" – for the employee who has a creative eye for new projects.
"Squirrel Award" – for the employee who loves stashing random items in their desk.
"Stand-up Comedian Award" – for the employee who brings laughter to the team.
"Walking Encyclopedia Award" – for the employee who loves to learn new things.
💡 IDEA: Present this award in a nice wooden certificate frame to serve as a tangible reminder of a job well done. Mail it to their homes after the ceremony so they can display it and remember how much their work matters.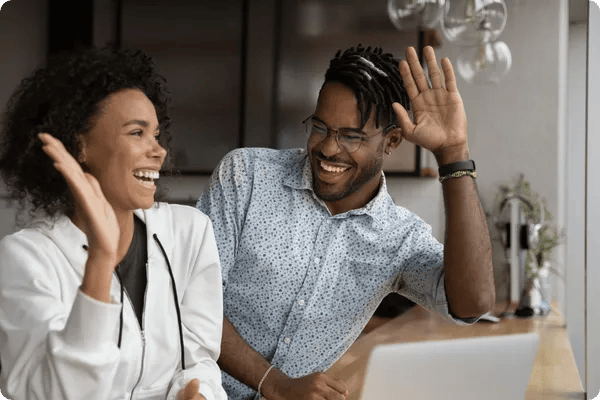 5. Create an online employee recognition board.
An online recognition board (also known as a "kudos board" or virtual recognition wall) is the perfect spot to highlight updates, achievements, statistics, and kudos that your team members can feel proud of. You can even use your organization's intranet site like Slack, Microsoft Teams, TinyPulse, or other interactive programs to get started!
💡 IDEA: Create a "Cheers for Peers" or "Wall of Fame" channel and invite team members to post positive content. Positive customer feedback, project milestones, peer-to-peer thank-you notes, and other notable achievements are all great things to share in your channel. Seeing uplifting messages like these can help improve morale and satisfaction at work.
Employee "Wall of Fame" Ideas:
Celebrate notable years of service and work anniversaries for tenured employees.
Award individual team members with weekly customer service awards.
Highlight big promotions and work-related philanthropy activities.
Spotlight teams on a rotating basis, noting one great achievement they've made.
Snap candid photos of employees working hard, having fun, and making a difference.
Post notes of gratitude with virtual Post-it notes, shout-outs, and stickers.
Write employee highlights to help team members get to know their colleagues better.
8 Best Employee Recognition and Rewards Software:
Want to take your employee recognition efforts to new heights? Try using employee recognition and appreciation software. This is a great way to use data to track and report your organization's efforts. Some employee recognition and rewards software programs, including the following:
Your main goal is to make team members feel special for their positive contributions to the community and their organization. Showing appreciation towards employees is a surefire way to motivate them, resulting in better work. A virtual recognition wall is just one step towards accomplishing this goal.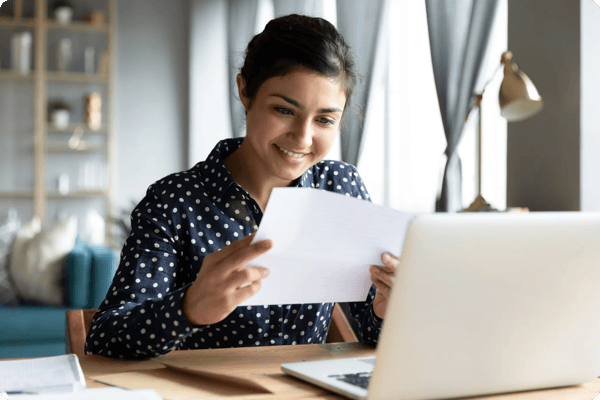 6. Send a custom box of company-branded gifts.
If there's one thing people love, it's getting a surprise package in the mail. Customized gift boxes are one of the trendiest new ways to reach remote employees and give them that personal connection to your organization, no matter where they are.
The great thing about employee gift boxes is that they can feature virtually any type of swag item or personalized gift you'd like. They're also a great way to keep remote workers engaged and connected with your team from the comfort of their homes.
Employee Appreciation Gift Ideas:
Company-branded apparel
Coffee mug or water bottle
Notebook, journal, and pen
Gourmet snacks, chocolate, nuts, or locally made treats
A gift card to an online retailer, coffee shop, or restaurant
A virtual experience voucher for an online class or workshop
A subscription or membership to an online streaming service or meal kit
A personalized mousepad or wireless phone charger
Coffee, tea, or hot chocolate packets
A cocktail- or mocktail-making kit
A professional development book
A phone stand, stickers, or noise-cancelling headphones
A personal planner for the upcoming year
A personalized calendar with team photos
A handwritten thank-you note
💡 TIP: Remember to consider your employees' preferences and interests when curating the gift box to ensure they feel genuinely appreciated and valued. Personalization and thoughtfulness go a long way in making the gift box truly special.
7. Send an office supplies gift card to improve their office.
A remote employee's home office plays a big part in their day-to-day productivity, so make sure your team is set up for success. Sending a surprise gift card to remote employees is a win-win situation: It'll help them set up a more productive workspace, and it'll help you convey your appreciation for their dedication.
A gift card to Amazon or an office supply store is a good place to start. Instruct employees to spend the gift on work items such as the following:
Cell phone and laptop stands
High-quality headphones and microphones
A Bluetooth speaker for workday jams
A lumbar support pillow for their office chair
A wireless cellphone charging pad
A tabletop sit-stand desk
Desktop organizers
To make the gift card more special, pair it with a handwritten thank-you note from you or your leadership team. Many employees hang on to cards like these long after they receive them.
💡 IDEA: Pair your gift with company-branded items they can use right away like a water bottle, coffee mug, imprinted company t-shirt, picnic blanket, and sunglasses.

8. Give access to professional development courses.
Professional development is one of the most important parts of helping your team grow, both personally and professionally. In fact, 76% of employees say they want opportunities for career growth and a whopping 87% of millennials say professional development or career growth opportunities are very important" to them.
Give your team members the opportunity to work on special projects that are beyond their regular responsibilities. They will improve their professional skills, gain experience, and build confidence in their ability to do a good job at a new task.
Next, choose from our list of continuing education resources to help your team upskill and reskill online. There are countless websites we love, but our favorites are Udemy, LinkedIn Learning, and Coursera. Don't forget about YouTube for free educational content!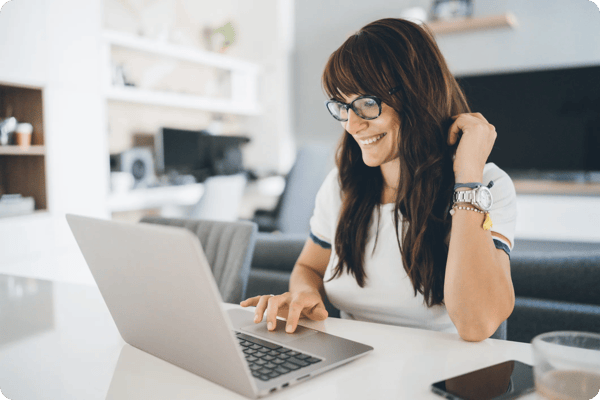 9. Build camaraderie with a fun remote team activity.
While online team building is certainly different than in-person team building, many of the principles are the same. All it takes is a little bit of creativity and ingenuity. Your goal is to help remote employees build connections through a virtual event, all while improving your company culture and employee engagement levels.
Most activities you can do in the office, you can also do virtually. Examples of virtual team-building activities include the following:
Let team members relax during a virtual coffee hour
Host an online snack break during the workday
Plan themed "Lunch and Learns" that teach about a topic.
Gather for an online happy hour with cocktails or mocktail.
Participate in an online escape room or DIY craft project.
Get employees excited with online "Office Olympics" and mini-games.
Create a virtual "campfire" and have employees share stories.
Play a round of virtual trivia, Jeopardy, Scattergories, The Price is Right, or Pictionary.
Find the suspect in a fast-paced virtual murder mystery game.
Get moving with a themed game of charades.
💡 TIP: When choosing virtual team-building activities, always cater your activities to your employees and what they enjoy most. Consider your team's needs and requirements to ensure everyone feels equally included.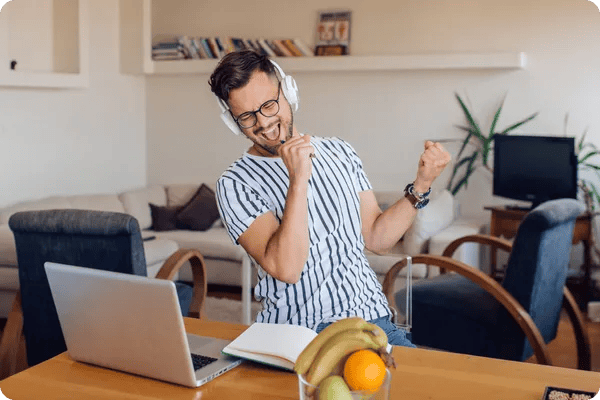 10. Film personalized appreciation video messages.
Personalized video messages offer a powerful and heartfelt way for both peers and leaders alike to connect with employees and demonstrate genuine appreciation. By taking the time to record short, personalized videos, leaders can address each team member by name, acknowledging their specific contributions and achievements.
These personalized messages make employees feel valued and recognized on an individual level, fostering a sense of belonging and motivation within the organization. Whether it's celebrating milestones, applauding outstanding performance, or expressing gratitude for consistent dedication, these video messages leave a lasting impact.
Additionally, in remote or distributed work environments, personalized video messages become a vital tool for building strong connections and maintaining team spirit, bridging the physical gap between leaders and their teams.
💡 TIP: Have everyone post their "Cheers for Peers" videos in a dedicated Teams or Slack channel where everyone can watch, like, comment, and enjoy the video creations.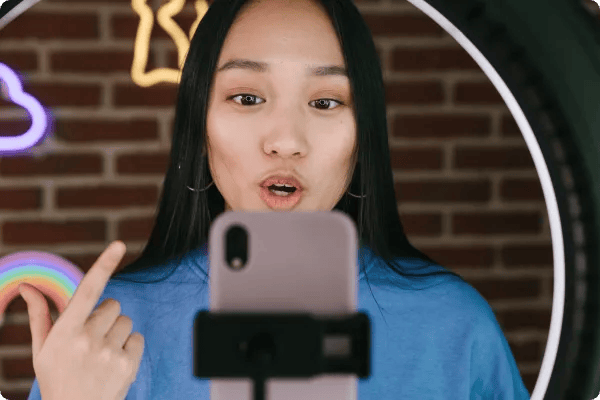 11. Feature employee spotlights and achievement highlights.
Employee spotlights are a powerful recognition tool that shines a light on outstanding employees within your team and organization. Make individuals feel special by writing a short blurb about them to be included in the company newsletter or within internal communications.
Try choosing one person a week and highlighting their recent achievements and contributions. This recognition initiative fosters a culture of appreciation and boosts employee morale, reinforcing the idea that hard work and dedication are recognized and valued within the company.
💡 TIP: Give each team member the name of another team member. Challenge each person to write a fun or playful employee highlight for their given colleague. The spotlight can take the form of a poem, a craft project, a song, a skit, a slide show, or any other creative format. Gather the team to share everyone's creations!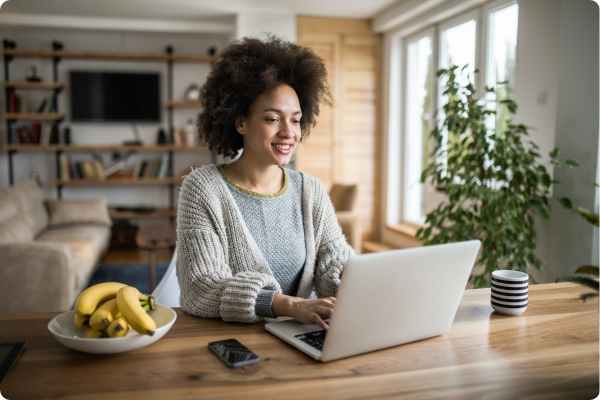 Which virtual employee recognition ideas do you recommend?
Virtual employee recognition ideas are all about inspiring your remote working team to do their best, recognize their wins, and celebrate their major milestones along the way. You can do this in a variety of ways using virtual employee appreciation ideas and your employees will thank you for it!
No matter the challenge, your team members continue to show up day after day and execute awesome results. Download your free copy of our "Essential Employee Engagement Toolkit," then read the following articles to keep your progress rolling!
Employee Engagement Articles You'll Love