From local tournaments to national championships, the sports industry has the power to bring people together to celebrate the excitement of competition. Not only do people love the thrill of competition, but they also love the sense of community that sports create.
What many forget is that behind the scenes, there's often a dedicated team of professionals working tirelessly to ensure that these events run seamlessly. This is where the world of sports event management comes into play.
Are you ready to take your events career to a new level? If so, this article is for you. Inside, we have included a full rundown on sports event management, including common job titles and functions, educational programs and certifications to pursue, key associations to join, and more.
Table of Contents
What is sports event management?
Sports event management involves the planning and execution of sporting events, competitions, tournaments, VIP parties, and other sports-related gatherings. Sports event managers are responsible for ensuring these events run smoothly and finding ways to create memorable experiences for participants and spectators.
The goal of sports event management is to bring athletes, fans, VIPs, and others together through successful social experiences. For instance, sports management may involve designing interactive fan experiences, planning behind-the-scenes arena tours, coordinating sports-related charity events and fundraisers, and more.
What is a sports event planner?
Sports event planners assist with managing sports events from start to finish. For instance, you may oversee sponsorship opportunities, choose event themes, create schedules, select activities, manage timelines, and research creative elements that bring gatherings to life.
Roles and responsibilities of a sports event manager can include any of the following:
Collaborate with key stakeholders to establish project timelines
Offer hospitality to event sponsors, clients, VIPs, and similar personnel
Plan fan engagement activities to improve spectator satisfaction
Manage gameday communications with broadcasters and the media
Recruit, manage, and oversee gameday volunteer teams
Review and select suitable venues for fan engagement activities
Manage arrangements for lodging and transportation to the event location
Implement event security protocols for the safety of athletes and spectators
Negotiate agreements with exhibitors, vendors, and sponsors
Devise strategies for handling inclement weather or emergencies
Maintain partnerships with national governing bodies to ensure standards are met
Oversee sporting event amenities, gifts, and giveaways
Use event marketing strategies to increase event ticket sales
Organize awards ceremonies, banquet dinners, and end-of-season parties
Investigate event technology solutions to increase day-to-day efficiency
Organization of sports events can be a rewarding career, especially for people with an eye for planning. If you are already in the event management industry and love the idea of finding ways to delight players, spectators, and sports fanatics, consider a career in sports event management!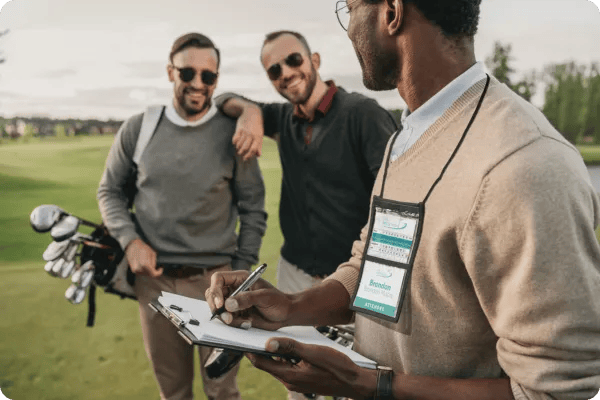 Need athletic event supplies? Shop pc/nametag's selection of credentials, lanyards, badge ribbons, brandable gifts, and more.
Careers in Sports Event Management
The world of event planning careers is endless. The role you choose to pursue should reflect your goals, aspirations, and skills you really enjoy.
Need ideas? The following job titles cover a range of roles and responsibilities within the field of sports event management – from planning and operations to marketing, logistics, and more:
Sports Event Coordinator: Responsible for planning sports-related events that meet specific objectives, budget, and vision. Also known as an Event Logistics Coordinator.
Sports Event Manager: Oversees and manages the planning, execution, and overall success of sports events at a more advanced level than an event coordinator. Also known as an Event Operations Manager or Sports Event Producer.
Event Director: Provides leadership and direction for the entire event, ensuring that it meets its goals and objectives. This is a senior-level event planning position.
Special Projects Coordinator: Works on unique initiatives that set the event apart, engage attendees, and contribute to the overall success and excitement of sports competitions and events.
Tournament Manager: Manages and organizes sports tournaments, including scheduling, participant coordination, and facility logistics.
Venue Manager: Manages the sports facility, arena, or venue where sports events are held, ensuring it meets the event's needs and standards.
Sports Event Marketing Manager: Develops and executes marketing strategies to promote sports events, increase attendance, and enhance the event's image. May also be known as a Media Relations Manager.
Fan Engagement Coordinator: Plans and executes activities to engage and entertain fans during sports events, enhancing the overall spectator experience.
Sponsorship Manager: Secures sponsorships and partnerships to financially support sports events, managing sponsor relationships and obligations.
Promotions and Partnerships Manager: Develops partnerships and promotional campaigns to enhance the reach and success of sports events.
Event Technology Specialist: Manages the integration of technology, such as mobile apps and live streaming, to enhance the sports event experience.
Sports Event Security Coordinator: Focuses on ensuring the safety and security of participants and spectators during sports events, including coordinating with law enforcement and emergency services.
Ticketing Manager: Manages ticketing operations, including pricing, sales, and distribution for sports events.
9 Sports Event Management Courses, Certifications, and Degrees
Individuals aspiring to become sports event managers may pursue event planning degrees or related degrees in marketing, communications, business administration, or public relations. Some graduate education programs even offer an opportunity to delve deeper into the complexities of sports events, equipping students with the skills and insights needed to attain their long-term career goals.
Additionally, participating in a practicum or internship can be helpful in gaining more practical experience. Here, you'll get hands-on learning opportunities and gain valuable networking connections.
If you are considering event management in sports, consider pairing your experience or formal education with a sports management certificate. Examples of sports management certifications include the following:
The Sports Tourism Strategist Designation (I.e., the STS Certification) will help you gain a deeper understanding of the sports events and tourism industry. Offered by the Sports Events & Tourism Association (ETA), participants must complete certificate courses to earn credits toward their STS designation. Accumulate 32 credits by taking sufficient Certificate courses, and you'll attain your Sports Tourism Strategist designation.
The U.S. Center for SafeSport produces abuse awareness and prevention courses, which teach sports professionals how to provide safe, positive environments for players, coaches, and staff. Units include sexual misconduct education, mandatory reporting requirements, and physical and emotional misconduct (such as bullying, hazing, and harassment). People who complete these courses will learn how to prevent abuse, recognize misconduct, and respond with proper intervention.
North Carolina State University offers a one-year online graduate certificate in Sports Venue and Event Management. In this program, students learn about managing stadiums, arenas, amphitheaters, performing arts centers, and more. This is a 12-credit certification that is typically completed in two semesters. You may also be interested in the university's Parks, Recreation Tourism, and Sports Management degree program.
This online program, offered by the University of Florida, equips you to coordinate sports events, from local games to major competitions. Learn to handle managerial challenges, risk management, and community impact. Students must complete three required courses, which are offered every fall and spring. Credits can also be applied toward a master's in sport management. (Note: You may also be interested in the UF's Online Master's Degree in Sports Management.)
The Cruyff Institute offers a 10-week course on Sport Event Management that is entirely online. This is an ideal course for sports event planners. Students learn about the organizational principles of sporting events, along with event marketing, risk management, financial management, volunteer management, and more.
The Rosen College of Hospitality Management (located within the University of Central Florida) offers a specialized certificate of study for event planning professionals interested in sporting events. This certificate program covers event operations, sports event marketing, sports tourism, research methods, and more. Graduates of this program have worked at the PGA Tour, the U.S. Tennis Association, and other notable organizations.
The Johnson & Wales University offers an online bachelor's program that will help you learn more about sports-related negotiations, agreements, productions, entertainment marketing, and sports management. This is an ideal program for people who want to manage tournaments, ticket sales, or events in the corporate, nonprofit, or hospitality industry. Most finish this degree in four years or less.
Coursera offers a free Sports Marketing Course through Northwestern University. Join ~40,000 students in this intermediate-level, flexible online course. In just 13 hours, you'll gain a better understanding of sports marketing, ticket pricing, press releases, media relations, crisis communication, social media marketing, celebrity handling, and brand loyalty.
Marquette University offers a 15-credit graduate certificate in sports leadership for people interested in enhancing their leadership abilities in the sports industry. This program covers various topics, including industry trends, sports communication, ethics, sports law, media events, and historical events that provide valuable context for the current state of the industry. On average, students complete the program within one to two years.
➡️ Looking for more broad event planning degrees? Read our list of general event planning degree programs, including event management certification options.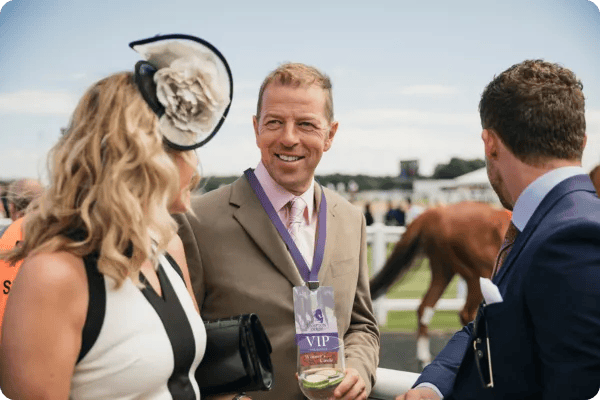 Need athletic event supplies? Shop pc/nametag's selection of credentials, lanyards, badge ribbons, brandable gifts, and more.
Sports Event Associations and Groups to Join
Joining a professional association as a sports event planner can offer several valuable benefits to enhance your career and expertise. First, associations provide a platform for you to connect with fellow professionals, industry experts, and potential clients or employers. These connections can lead to new partnerships, job opportunities, and valuable industry relationships.
Second, associations offer resources, industry research, best practices, and educational material to members. These benefits can help you stay up to date on the latest industry insights, tools, and resources available to you.
Being part of an association can be a rewarding experience. Sports event planners may be interested in joining the following professional associations and groups:
When selecting associations to join, consider your specific career goals and the types of events you plan to manage. Each association may offer unique benefits, including networking opportunities, resources, educational programs, and industry insights that can help you excel in the field of sports event planning.
How to Find Sports Event Management Jobs
Finding the perfect sports event management job to match your passion and expertise is an important part of your career journey. Whether you're an experienced event planner or just starting in the field, there are numerous job search websites that can connect you with exciting opportunities in sports event management.
The best job search websites for the sports industry include the following:
These platforms will help you discover and apply for roles that will get you on the path to success. Keep your resume polished, your cover letter ready, and your network active, and you will find your dream career in no time! Remember to take advantage of resources offered by industry associations as well, including networking events, certifications, and continuing education opportunities.
Branded Athletic Event Supplies for Teams
For over 40 years, pc/nametag has helped business and event professionals create meaningful connections through custom-branded products and unique service offerings. Specializing in athletic event supplies like custom sports credentials, lanyards, badge ribbons, wristbands, bag tags, and custom tickets, pc/nametag works with you to create memorable experiences that bring sports fanatics together.
pc/nametag also offers a variety of fulfillment services, including custom gift box creation and registration envelope assembly. Let us create a curated gift box filled with branded items for your next corporate event, golf outing, or VIP gathering. Or, work with us to mail credentials, wristbands, and sponsored materials to attendees prior to your event. We look forward to working with you!