There are so many reasons to love charity fundraisers. From silent auctions to fast-paced games, these events bring people together to achieve something bigger than themselves. They inspire change and show the direct result of your efforts.
Are you ready to turn your passion into action? Use these charity event ideas to spark participation and take your fundraising efforts to new heights—and make it fun!
Short on time? ⌛ Shop pc/nametag's selection of

non-profit event supplies

. Find custom-branded name badges, promotional items, office supplies, and more for your organization.
Table of Contents
Fundraising Games to Play
Looking for creative fundraising game ideas? Get inspiration from the following list of activities for adults, families, corporate teams, and everyone in between!
1. Duck Pond 🦆
The Duck Pond game is a lighthearted activity for fundraising picnics, relay races, concerts, and other outdoor fundraising events. Participants can "adopt" rubber ducks and have a chance to win prizes. This is a low-cost game that is easy to play and appropriate for all age groups.
How to Play Duck Pond:
Fill a small pool or tub with water and add rubber ducks with numbers on the bottom.
Participants "adopt" a duck by purchasing a numbered ticket.
At a designated time, randomly select ducks from the water.
The person with the ticket matching the selected duck's number wins a prize.
Customize this game with different prizes or themes to best fit your event.
Want to increase giving? Offer premium-priced tickets for a chance to win the "golden duck." This winner gets a high-ticket item that relates to your event theme. Invite sponsors to donate these items to help extend your budget.
2. Cake Walk 🍰
Like musical chairs, Cake Walk is a simple game that combines the deliciousness of baked goods with fundraising and is perfect for community events. Sell cake walk tickets to let guests enter a round.
How to Play Cake Walk:
Using a series of tables, set up a circular path marked with numbered squares.
Place numbered cakes or desserts on each square.
Participants buy tickets for a chance to walk around the tables while music plays.
When the music stops, draw a random number.
The person on the corresponding numbered square wins the cake or dessert.
Partner with local bakeries, grocery stores, or cake shops to provide items for the cake walk. Cookies, cupcakes, muffins, donuts, and other sweets are sure to be a hit in this activity.
3. Charity Treasure Hunt 🗺️
A treasure hunt adds an element of adventure and excitement to your fundraising event. Participants search for hidden treasures while supporting your event's cause. You can do this activity indoors or outdoors depending on the weather. Guests purchase a ticket or provide a suggested donation to participate.
How to Play Treasure Hunt:
Hide small prizes or tokens throughout a designated area.
Participants purchase maps or clues to participate.
Follow the clues or the map to locate the hidden treasures.
The value of prizes can vary and be donated by sponsors.
Want to add a tech-driven element to your treasure hunt? Try adding QR codes to each stop for participants to find. When scanned, the QR code can provide the next clue to the next stop. We love the idea of creating a digital scavenger hunt!
4. Human Bingo 👋
Human Bingo is a fun game where people meet and learn interesting things about other players. You can also customize the game board to reflect your charity, organization, or sponsors. Monetize this activity by selling bingo cards at a booth.
How to Play Human Bingo:
Make bingo cards with different facts in each square, like "Traveled to 5 countries," "Speaks 3 languages," or "Is a vegetarian."
Have people ask questions to determine who matches the characteristics on their cards.
When someone finds a match, they write that person's name in the corresponding square.
The first person to complete a row, column, or diagonal shouts "Bingo!" and wins a prize.
Want to create your own Bingo card from scratch? Try using Canva, a free graphic design program. Click "Create a Design," then search for "Bingo Card."
From here, create your design (like the example we created below). Or select from dozens of design templates in the left sidebar. Get creative and make it your own!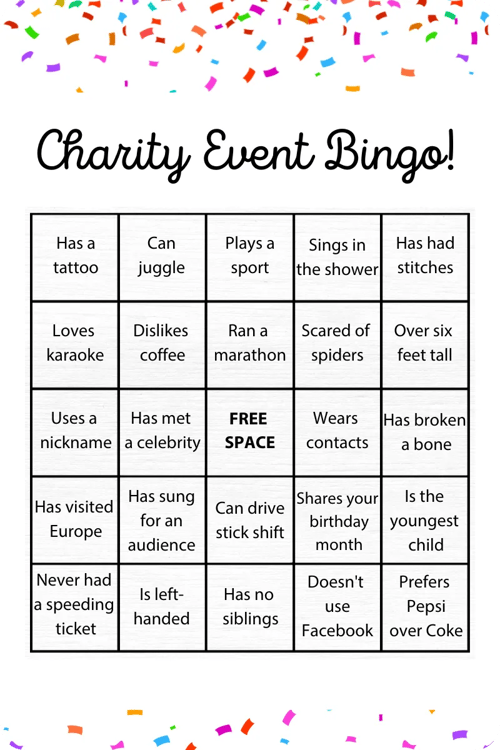 5. Heads or Tails 💰
The Heads or Tails fundraising game takes your average charity auction and adds a unique spin to the experience. This is a great activity for guests of all ages, is easy to play, and will get participants laughing. Sell tickets to guests to allow them entry to the live auction.
How to Play Heads or Tails:
Select items for your raffle or gather donated gifts from event sponsors.
Once the auction begins, invite all participants to stand up.
Next, invite all participants to select either "heads" or "tails."
Once guests make their selections, have them hold up a sign showing their choice.
The auctioneer flips a coin and announces whether the coin came up heads or tails.
If a participant's choice matches the coin flip, they stay standing—everyone else sits down.
Eliminate more players until one is left standing by repeating steps #4 through #7.
Award the raffle winner with their prize!
If your team will be auctioning off a high-ticket item, consider hosting a "VIP round" where participants must pay a premium ticket price in order to participate. Like a meat raffle, guests must donate more to have a chance at winning the expensive prize.
6. Penny Wars 🏃
Penny Wars is a fast-paced competition game that encourages participants to donate spare change in a creative way. It's a fun and engaging game often used for school fundraisers, office challenges, or community events. Proceeds from each round are donated to the charity.
How to Play Penny Wars:
Set up collection jars or decorative containers for each team or participant.
Each penny (or any designated coin) in the jar counts as a positive point.
Place other coins and bills in other teams' jars as "negative" points. For example, a nickel could subtract five points, a dime ten points, and so on.
The team or individual with the most positive points at the end of a specified time wins.
Encourage participants to be strategic and creative! Teams can sabotage others by adding "negative" coins to their jars.
These fundraising games are sure to add excitement and boost audience engagement at your next charity event. Customize the games to align with your event's theme and goals. Don't forget to promote them effectively to maximize participation and donations.
Quick Fundraising Ideas and Activities
Charity event organizers sometimes find themselves needing to reach their goals quickly and efficiently. We gathered our favorite quick fundraising games to boost funds in a pinch. Use them on their own or pair them with the fundraising games above.
1. Fundraising Wine Wall 🍷
Wine walls let participants select a bottle of wine from a wall of concealed options. Supporters, local wineries, grocery stores, or businesses donate the bottles. This is a quick, straightforward way to raise money. It also takes minimal set-up and lets participants take home a gift.
Instructions:
Request wine bottle donations from local businesses and sponsors. Ask for a variety of wine types and price ranges to make it more interesting and cater to different preferences.
Set up a visually appealing wine wall display at your fundraising event. You can use wooden shelves, wine racks, or specially designed wine wall structures.
Cover the wine bottles with paper bags or decorative sleeves to hide the labels and maintain an element of surprise.
Decide on the cost for participants to select a bottle from the wine wall.
When a guest purchases a ticket or voucher, they can choose a bottle from the wine wall. Let them reveal the label to see which wine they have received.
Offer extra prizes like gift cards, bottle openers, insulated cups, and more to increase excitement and encourage ticket sales.
Not sure how to price your wine wall? Try a flat fee or tiered pricing. For example, charge $20 for a basic bottle ticket and $50 for a premium bottle ticket.
2. Social Media Flash Challenge 🤳
Social media challenges can go viral quickly, especially with the right event promotion strategies in place! They also get people to take part in creative challenges that encourage donations.
Instructions:
Create a unique challenge related to your cause, such as a dance challenge, a themed photo challenge, a talent showcase, a dress-up theme, or anything that sparks enthusiasm.
Announce your challenge on your social media accounts (I.e., Facebook, Instagram, Twitter, TikTok, LinkedIn, etc.) with an engaging video or post. You can also announce the challenge via event email marketing.
Invite participants to film or photograph their challenge entry and share it on social media using a specific hashtag in the caption.
Have participants nominate others by tagging them to donate.
Lastly, remind participants to tag your event or organization in the post.
Celebrate participants' successes by sharing their contributions on your social media pages in posts and stories. This makes people feel special and will encourage more to join in the fun! If you don't have much time, try a social media "flash challenge" that lasts for 24 hours or 1 week.
3. Dunk Tank 🌊
Dunk Tanks engage participants, create a fun atmosphere, and raise funds quickly for your cause. Collect money by selling tickets to take a turn at the dunk tank.
Instructions:
Calculate the cost of renting or purchasing a dunk tank. Consider this cost in your fundraising goals or seek an event sponsor to cover the expense.
Choose an appropriate spot for the dunk tank. Make sure there's room for the tank, a line of people, and a safe area for the person to land.
Ask for volunteers to be the ones dunked in the tank. This could be a local celebrity, a community leader, or even willing event participants.
Assign someone to monitor the dunk tank during the event for increased safety. You can also add an element of entertainment by having an emcee engage the crowd.
Want to raise even more money for your charity? Sell exclusive offers like lower prices for multiple throws, or unlimited throws for a certain time.
4. Bingo for Charity ✔️
People of all ages love this classic game! Customize your Bingo cards to highlight sponsors and boost visibility for supporting brands and organizations at your event. Raise money by selling Bingo cards to participants.
How to Play Charity Bingo:
Create custom Bingo cards with numbers, words, or sponsor logos related to your cause.
Distribute Bingo cards, markers, or bingo daubers.
The game host calls out items (or reads clues) related to the words on the cards.
Participants mark their cards when they hear a number, word, hint, or logo called out.
Offer prizes of varying price points, donated by sponsors, to winners.
Want to add a unique spin to your game? Instead of calling out letters and numbers, play crowd-favorite songs instead. For example, play 15 seconds of "Sweet Caroline" and let attendees mark it on their cards. Think outside the box! There are unlimited ways to customize your game.
5. 24-Hour Virtual Fundraising Marathon 🕗
If you were around in the 80s or 90s, think "telethon" but a bit more modern and engaging! A 24-hour fundraising marathon is an energetic way to engage supporters and generate donations around the clock. Plus, this type of fundraising can be incredibly cost-effective when using the right platforms.
Instructions:
Form a team of volunteers to help with the planning and execution of the marathon.
Create a detailed schedule for the 24-hour marathon. Decide on the activities, entertainment, and special events that will take place throughout the day and night.
Select your event live streaming platform. The easiest platforms to use are Twitch, YouTube, and Facebook Live.
Once your event starts, encourage viewers to donate during the live stream. Host flash challenges to keep the energy high!
Create fun activities during the marathon to keep people engaged, like a costume competition, themed challenges, or unexpected visitors.
Keep everyone updated on social media, your website, or through live streaming about how much money you have raised during the event.
Hold a closing ceremony to celebrate the conclusion of the 24-hour marathon. Thank participants, volunteers, sponsors, and donors for their support.
You can create a memorable 24-hour fundraising event by thinking out of the box and keeping people on their toes! Virtual marathons help raise funds quickly and bring people together, even if they are physically apart.
EXPERT INSIGHT 🎬: Watch the following video to learn how MC Moffit, Event Director at Zeldathon, creates an engaging, six-day online marathon to raise money for charity. You'll learn upbeat, engaging ideas for keeping attendees excited to donate!
Want to watch more? See our full charity event planning Q&A with Zeldathon here.
6. Virtual Fitness Challenge 🎽
Organizing an online fitness challenge for charity is an interactive way to promote well-being and support a worthy cause. Invite participants to enter individually or form a team to create an even greater challenge!
Monetize this event by charging an admission fee. You can also invite local businesses to provide a donation when collective fitness milestones are achieved, either by individual groups or by all participants together.
Instructions:
Choose a start date and duration for your virtual fitness challenge.
Identify a virtual platform or app for tracking participant progress and engagement. Platforms like Strava, MyFitnessPal, or custom event websites can work well.
Define the challenge! This may involve running or walking a certain distance, completing a set number of workouts, or achieving a fitness-related goal.
Create a fundraising leaderboard to highlight the top fundraisers, motivating participants to strive for the top positions.
Offer incentives or prizes for reaching specific milestones.
Reach out to local businesses or corporate sponsors to ask for funds or in-kind donations. You can also create your own promotional giveaways, including sunglasses, mugs, water bottles, yoga mats, t-shirts, luggage tags, bags, and more!
Raffle Ideas for Fundraisers
Every charity event needs a great raffle! In this list, you'll find my favorite auction items, raffle collections, and fundraising basket ideas. When in doubt, think about your event theme and create baskets or raffle activities that tie in with it.
Don't be afraid to reach out to local businesses for prizes. Many will be happy to donate products and services to support your cause. Plus, it helps them promote their businesses to your fundraiser attendees.
Cash Prize Raffle: Offer a cash prize as the main attraction. A 50/50 raffle, for instance, awards half of proceeds to a winner. The more tickets sold, the bigger the cash prize, creating a strong incentive for participation.
Travel Adventure Raffle: Give attendees the opportunity to win a trip or getaway, like a weekend at a resort, a cruise vacation, or a trip to a popular destination.
Tech Gadget Raffle: Collect popular tech gadgets like smartphones, tablets, or gaming consoles and offer them as prizes.
Dinner with a Celebrity Raffle: Arrange a dinner with a local celebrity, sports figure, or influencer as the grand prize. Attendees purchase tickets for a chance to enjoy an exclusive evening with the celebrity.
Gourmet Food and Wine Raffle: Assemble a collection of fine wines, artisanal cheeses, and gourmet foods for a culinary prize package.
Sports Fanatic Raffle: Gather sports memorabilia, tickets to games, and fan gear to create a sports-themed prize package for avid sports fans.
Spa Retreat Raffle: Offer a relaxing spa experience, complete with massages, facials, and wellness treatments.
Adopt a Pet Raffle: Partner with a local animal shelter and offer a pet adoption package, including a pet adoption fee, pet supplies, and grooming services.
Entertainment Raffle: Create a prize package that includes tickets to concerts, theater shows, and movie theaters, along with dining vouchers for a night of entertainment.
Outdoor Adventure Raffle: Appeal to outdoor enthusiasts with prizes like camping gear, hiking equipment, a state parks pass, or a guided outdoor adventure experience.
Home Electronics Raffle: Feature the latest home electronics, such as smart TVs, sound systems, and home automation devices.
Artistic Experience Raffle: Offer art lovers the chance to win original artwork, art classes, or tickets to art exhibitions and museums.
Family Fun Day Raffle: Create a family-oriented prize package that includes tickets to amusement parks, a local zoo, and family-friendly attractions in your area.
Book Lover's Raffle: Assemble a prize package with a selection of bestselling books, an e-reader, and a gift card to a local bookstore.
Fitness and Wellness Raffle: Appeal to health-conscious individuals with fitness equipment, gym memberships, wellness products, and healthy snacks.
Home Makeover Raffle: Offer home improvement services, interior design consultations, and furniture vouchers to help winners transform their living spaces.
Black Tie Affair Raffle: Put together a ritzy box filled with wine, a wine opener, wine glass charms/markers, and artisan chocolate.
These raffle ideas will entice participants to donate, no matter their ages, interests, or passions. Choose raffle items and baskets that align with your cause and attendee demographics to maximize ticket sales.
EXPERT INSIGHT 🎬: Looking for ways to keep energy high at your charity event? Watch the following video to get tips from MC Moffit, Event Director at Zeldathon, as he covers his best strategies for encouraging donations and keeping energy levels high.
Want to watch more? See our full charity event planning Q&A with Zeldathon here.
Non Profit Fundraising Ideas and Event Supplies for Planners
Charity event planners have the power to make a difference in the world through the fundraisers they host. But the first step to creating a memorable experience is through high-quality non-profit event supplies.
The pc/nametag team makes event planning easy. We set you up for success by helping you find ways to engage donors, excite attendees, and meet your charity goals.
Get custom event badges, lanyards, event tickets, promotional giveaways, event registration supplies, and more for your non-profit organization. Or explore our Non-profit Look Book to find inspiration for your next event!