Back to Blog Listing

Ellen Elinchev
Ellen is a former copywriter for pc/nametag.
Organizing a sustainable event can be highly rewarding for you and your event stakeholders. It takes some extra planning upfront, but for many event pros, there is nothing more gratifying than hosting an event that brings people together to learn and network – while collectively helping the planet.
Your event certainly doesn't have to be zero waste to be considered sustainable. You may be limited by budget, venue, bandwidth, or any number of factors, but you can still implement green practices at your next event.
To understand your event's environmental impact and what you can do to reduce it, analyze things like travel (for you, your staff, sponsors, vendors, speakers and attendees), venue, waste, food and beverage and printed materials. Then, look for ways in which to make them more environmentally friendly.
To help you get started, we've included 10 tips for hosting a green event.
1. Search for a venue that shares your values
Look at hotels, convention centers, and other event destinations to see what sustainable practices they have in place. Venues who want to earn the business of an eco-conscious planner will work hard to achieve industry benchmarks and create financial incentives that make them stand out from the competition.
You can also look for venues that hold certifications or green awards such as the Leadership in Energy and Environmental Design® (LEED®). This globally recognized sustainable rating system applies to virtually all building types and is a symbol of sustainability achievement.
Also, any certification with ISO® standards such ISO 20121 (event sustainability management) is an excellent indicator that the venue can provide a sustainable backdrop for your next event.
You may also find a venue that meets affordability and availability but does not have strong environmental practices. If so, find out if some type of sustainability plan can be negotiated into the contracts.
Remember, selecting a sustainability-minded destination or venue at the outset can often eliminate costs, and present built-in green opportunities for your event.
2. Minimize the transportation needs of your attendees and other stakeholders
When organizing an event, one of the biggest drains both environmentally and financially is transportation. It certainly is the largest contributor to your CO2 emissions and event footprint.
It would be ideal to host your event at a location where most of your attendees live. But that scenario is unrealistic for most events, so look to minimizing your impact by offsetting your attendees' long-distance travel with options such as:
Select a venue where the hotel and conference center or convention hall are all under one roof
Choose a walkable convention neighborhood to improve accessibility and remove the need for event transportation
Offer a shuttle service to encourage attendees to ride together, saving on parking and cutting down on emissions
Include prepaid light rail or bus passes as part of the registration package
Rent equipment locally, plus schedule and consolidate freight to reduce shipping costs
3. Create menus that are sustainable and healthy
Menus are a great way to show that event organizers are environmentally and socially responsible.
Source foods that are produced locally to save costs, guarantee freshness and demonstrate that you support sustainable agriculture. You can also promote local food sources by advertising their businesses in the menus, on business cards or table tents placed on serving stations.
Use an accurate ordering system that carefully calculates food per person so you avoid over ordering food while still ensuring you don't run out. Having attendees pre-order their food choices via a digital menu on a touch screen tablet (positioned at each table) creates an accurate ordering system while eliminating the cost of printed menus.
Provide an organic meal plan with vegetarian or vegan options that are plant based. Sourcing these choices is easy on your budget, promotes healthy eating and well-being and reduces carbon footprints further down the processing chain.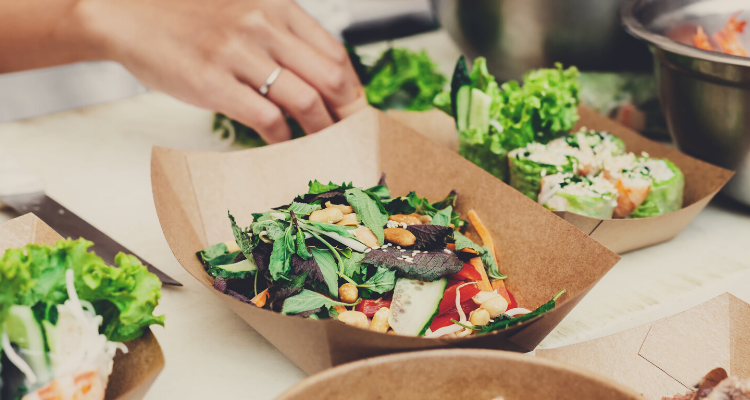 4. Develop a plan for dealing with food waste at your event
Dealing with food waste at an event has become a lot easier in recent years, and although it requires some extra planning, it can run smoothly once rules are put in place. Dealing with food requires following local legislation, so always adhere to the ordinances or laws when donating.
Partner with homeless shelters or local initiatives that can take leftover food and disperse it to needy individuals and families immediately after the event.
Compost the waste: even though there are associated costs, this sustainable option outweighs what you might pay to landfill which makes it financially viable.
Pre-order food to avoid mass production and food waste by asking attendees order from a set menu during the registration process.
5. Use forms of green energy sources to power your event
Depending on the size and needs of your event, tap into new forms of energy when you can. Your venue may already have large windows for natural light, use renewable energy to power its building(s), even utilize rooftops to cultivate urban gardens or generate solar power.
These built-in practices are a major plus for your sustainable event, but you can also incorporate your own when possible.
Integrate solar panels into furniture, such as benches or tables to show you're supplying high-tech charging options with low environmental impact. Or, temporarily install them into lighting for longer events. You can pre-install solar panels at many green venues, so look for this option during your venue search.
Promote healthy living by integrating attendee-powered lounges. Set up an exercise bike or treadmill that helps power blenders for smoothies or cocktails; pedal power could also change colorful lighting in the lounge to create a multi-sensory experience for attendees.
6. Create sustainable centerpieces that are more than just pretty to look at
No one wants to eliminate bouquets from the event décor, so here are a few creative ways to get double duty out of your greenery.
Use fake floral. These look just like the real thing and fall into the "reuse" category. You can also get flowers that match your branding or themes and use them over again at future events.
Add living décor. This increasing trend is perfect for a green event and can be simple, too: use potted bushes or plants for entryways or hang trailing baskets from the ceiling.
Gift your centerpieces. Get more life for your floral by offering arrangements as prizes earned from a game or give as party favors as the end of the event. Remember to use local and seasonal floral for your centerpieces; supporting the local community and reducing emissions.
Use herbs such as basil, cilantro, rosemary and lemon grass as centerpieces. Attendees can use springs to garnishes for their entrees and infuse their beverage. At the end of the event, consider donating to a community garden project.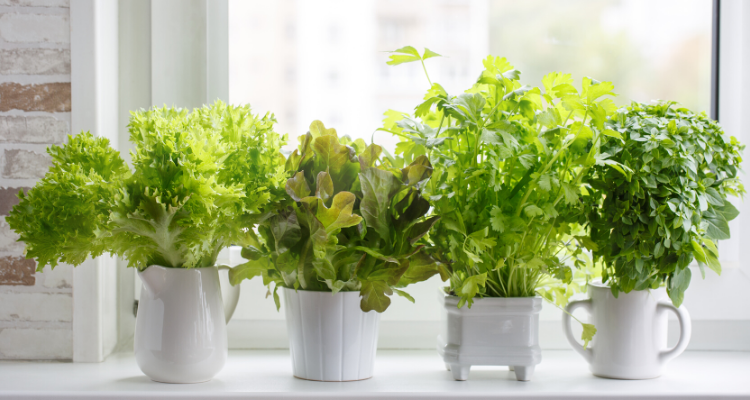 7. Set up clearly marked stations for recyclable and compostable items
If you choose a sustainable-minded venue, these stations may already be in place for your event. However, if you're setting up stations yourself, offer several bins, each clearly marked or color coded for different types of waste to make it easy on attendees to dispose of food and packaging. That way, people don't accidentally place their water bottles and other plastics in the bins meant for food waste, or mistake the recycling stations for trash bins. This practice also makes the job of waste handlers much easier post-event.
8. Offer a virtual attendee registration option
If you have the capacity to offer your event to attendees far away as a hybrid meeting or through mobile apps, you're not only eliminating the CO2 emissions of flying and driving, you're presenting your long-distance participants with great convenience they may not of otherwise had with a typical event.
9. Incorporate wellness activities to promote good health for attendees and the planet
Add time during your event for attendees to take a break from learning and networking and focus on themselves. Fold in attendee health and wellness sessions such as yoga and meditation.
Disperse filtered water stations throughout your event and provide attendees with drinking vessels such as stainless steel, copper vacuum-insulated tumblers that keep water cold for the entire day and eliminate the negative impact of plastic bottles.
10. Offer eco-friendly promotional products for your attendee gifts
Allow your sustainable values to pervade your entire event, from the venue you choose to the environmentally friendly products you send home with attendees. Consider earth friendly products that are made from renewable sources such as bamboo or cotton. Even consider eco friendly products made from recycled materials such as soda bottles.
Your commitment to sustainability is also a cost savings for your business.
Unlike the myth that still pervades planners about the higher cost of going green, a sustainable event can save money for your business and the bottom line, even by implementing small changes.
Eco-efficient practices like avoiding products you don't need, reusing those you have, incorporating vegan and vegetarian menus, and replacing soda, iced tea, and juice with water stations, are all cost-saving opportunities and easy to manage for any planner who wants to make a difference and reduce negative impacts on the planet.
What are some tips you can share for hosting a sustainable event? Leave a comment below to let us know!