When it comes to artificial intelligence (AI), many of us think of futuristic sci-fi movies, virtual reality, humanoid robots or even biometric security devices in spy movies. However, AI isn't just a thing of the imagination; it involves real-life technology that empowers us to improve our lives. From Google Maps' smart navigation to Amazon's virtual assistant "Alexa," many of us use AI every day—even if it's just to unlock our phones with a face or finger scan.
AI systems and event technology are making a big impact on the efficiency and effectiveness of meetings and events. Here's what several experts had to say about how artificial intelligence can help event teams gather data, engage audiences, run analytics and improve their annual ROI.
How can meeting planners use A.I. to improve their events?
| | |
| --- | --- |
| | "AI will help create more immersive and visually attractive experiences, especially for virtual and hybrid events." |
"I believe it was in 2014 when people first saw the use of a four-foot-tall, white-colored humanoid robot model called 'Pepper' as a people greeter in conventions, particularly in Japan, where it was created. The robot could carry out simple conversations, like providing directions and giving short spiels about products and services. Over the years, hundreds of Pepper robots have made appearances in company events and conventions.
Today, AI in the form of chatbots is being used in virtual hiring events. Companies like Paradox offer a service with a chatbot named Olivia who takes care of applicant registration, sending event reminders, and introducing candidates to live recruiters on job fair day. Pepper robots and chatbots are natural language processing-based AI that has benefited the events industry.
Besides the conversational robots, AI will be used to make more immersive and visually attractive events, including those that may need to be done virtually due to limitations that prevent large numbers of people from congregating. Events professionals will also be able to benefit from AI's machine learning capabilities to make predictions from huge amounts of data – information from participant profiles – to make events more personalized. This will increase the engagement of participants in events."
Avner Brodsky, CEO and Co-founder of Superwatches
| | |
| --- | --- |
| | "AI will help improve event security by reducing human error and checking identities more accurately." |
"AI is at the forefront of event management, especially with programs like facial recognition and biometric registration. These technologies help check attendees' identities more accurately, while also reducing human error and oversight. While AI security systems may seem costly compared to the expense of hiring extra personnel, the cost can actually be comparable or even lower in some situations. These systems are a great way to provide additional protection for event staff and attendees alike."
Bram Jansen, Chief Editor of vpnAlert
| | |
| --- | --- |
| | "Artificial intelligence is putting personalization at the forefront of the service industry." |
"AI is already being used in a variety of ways within the meetings, incentives, conferences, and exhibitions (MICE) sectors and will continue to grow as an event trend. Here's an example: A guest walks up to a bar at your event and automatically receives their preferred drink without even needing to place their order. Smart registration systems can gather information like this upfront and, in turn, can create a personalized profile of and for the event attendee.
Another good example of applying artificial intelligence during events is the usage of facial recognition. This technology can be used within security lines, at guest registration and to add gamification aspects to an event. Simple services have transformed into 'experiences'. I predict that AI will make events a more personalized experience for the attendees while it eases the organizational aspect for companies. Everyone wants to receive a personalized experience, rather than being provided with a general package, and AI will play a big role in this."
Yordi Smit, Sales Manager at Spacehuntr
| | |
| --- | --- |
| | "AI will help event planners gain better insights for future event marketing, planning, and engagement efforts." |
"In the future, many event planners will utilize AI to locate event venues, connect with vendors and reach out to people that are best suited to attend their events. This has traditionally been a manual, pain-staking task, but AI can make the process easier and more efficient. Additionally, AI can help improve the event experience, as technology can pinpoint attendees' interests and social media data to provide them with recommendations and personalized experiences."
Eden Cheng, Founder of WeInvoice
| | |
| --- | --- |
| | "AI will help meeting planners collect real-time, accurate feedback to improve future events." |
"Through the use of chatbots, AI can be used to take polls and surveys during the event, during presentations and keynote speakers, and at networking and happy hour events. This level of real-time, accurate feedback provides useful information for evaluating the progress of an event and preparing for the next one. The more evidence you can collect, the more strategic your future choices and strategy can be."
Alex Claro, VPN Analyst at CreditDonkey
| | |
| --- | --- |
| | "AI will become a driving force behind marketing campaigns and social media strategies." |
"Getting the right people to attend events will eventually become easier thanks to marketing boosted by artificial intelligence. AI lets digital marketers leverage big data on their potential customers. Marketers can then use this data as the driving force behind their marketing campaigns and social media strategies. This data can also be used to identify trends and make tweaks where necessary to optimize their efforts.
Demographic information collected by AI-led software can help marketing teams create more efficient ads and leverage customized messaging for different audiences. Event teams can even apply AI marketing to promote their events and sell registration packages to exhibitors."
Olivia Tan, Co-founder of CocoFax
| | |
| --- | --- |
| | "AI will help event planners improve, enhance, and streamline business." |
"Artificial intelligence has a significant impact on humanity. Over the years, it has been developed to replace manual labor and return more time to event planning teams. I believe that in the future, AI will be able to plan an entire venue space, meeting room, or conference hall at an event. It will automatically control lighting, atmosphere, and temperature for a better attendee experience.
With the help of AI, event professionals can also process and sort out vast amounts of data. Gone are the days of spending hours locating the right person for the right task, like catering or decorating. AI will not only aid in faster decision-making and vendor nomination but may even set ROI records for clients."
Miranda Yan, Co-Founder of VinPit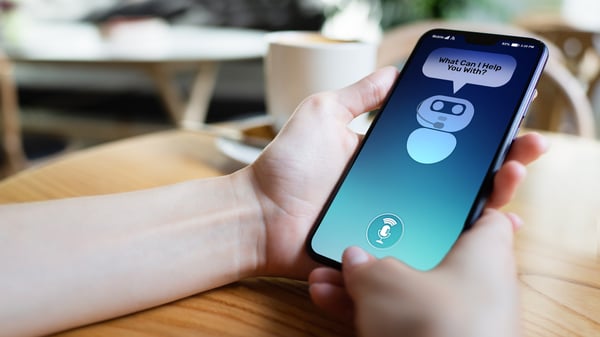 | | |
| --- | --- |
| | "AI will connect event attendees with like-minded individuals for a more enjoyable experience." |
"There are several ways in which companies leverage the power of AI in the events industry right now. The two most common use cases include using AI for capacity and usage analytics, as well as emotion detection.
The way it works is simple. To illustrate, event organizers use AI technology at car shows to monitor how many people looked at the car or interacted with it. This strategy helps teams better understand audience behavior and adjust messaging accordingly.
Another AI use case relates to capacity and usage analytics, which allow event organizers to do more effective capacity planning and setup. In years to come, AI will be used to fully personalize the event experience for its participants—for instance, by assigning everyone an AI bot to guide them or connect them with people who have similar interests."
Alberto Rizzoli, CEO of V7 Labs
| | |
| --- | --- |
| | "AI will break down language barriers and connect guests of all backgrounds." |
"We already know that artificial intelligence tools can help event planners work more efficiently and save time. But now, AI has evolved even further to help us overcome language barriers during various events. These tools eliminate the need for a translator. Machines can now function as personal translators for guests, no matter the language they speak."
David Attard, Digital Consultant and Web Designer at CollectiveRay
| | |
| --- | --- |
| | "AI will enable planners to create events that cater to the specific needs of their audiences." |
"AI is often used in many industries to create personalization. These days, it has become much more important to create niche events that attract the right individuals. AI is the tool to help accomplish this goal. For example, AI allows you to target the right individuals through data capture. This ultimately allows you to create an event that caters to the specific needs of your audience. You'll also feel empowered to implement strategies that attract your target audience base. The final result is the ability to improve the attendee experience and ensure that your event is one that they'll remember."
Carla Diaz, Co-founder of Broadband Search
| | |
| --- | --- |
| | "AI security will create safer, more secure events that attendees can trust." |
"Many event planners in the past have struggled with maintaining proper security measures at large events, but AI may come to be a big solution. Facial recognition software is fantastic for the registration process at an event and ensures that no visitor enters without having their face checked within the system.
This software will also track who is at your event and if anyone is missing. In the future, I think it would be interesting to leverage AI to conduct automated background checks as visitors enter an event. The goal would be to create a safer environment for the event itself and its planners. Having worked in cybersecurity for decades, I know how important it is to be more safe than sorry when it comes to security risks."
Heinrich Long, Privacy Expert at Restore Privacy
| | |
| --- | --- |
| | "AI will help improve attendee satisfaction through customized agendas and session suggestions." |
"AI can be leveraged at many stages of an event life cycle. Popular examples include event marketing campaigns, where AI can personalize messaging using big data on potential attendees. It can also be used via chatbots to register attendees to the event, answer their questions and share event updates. During the event, AI can use attendees' personal information and preferences to recommend relevant event sessions and networking opportunities, which is especially feasible for large-scale events."
Alex Bekker, Head of Data Analytics Department at ScienceSoft
| | |
| --- | --- |
| | "AI can gather measurable data for event metrics and ROI—showing teams where they are exceeding and where they must improve." |
"AI in the events industry is already being used to process vast amounts of data that may otherwise be unreadable or require a professional to distill. It is also used to analyze venue options based on your audience size, accommodations, and the style of event you're going for. AI can even be used to read your event requirements and search for the right vendors. Having data readily available for the company to decide on something means faster decision-making and less time wasted.
One of the most interesting ways that AI can be used within the events industry is to connect attendees with similar interests and backgrounds. Not only does this technology enhance networking opportunities, but it can also foster more meaningful conversations. Additionally, as advancements continue, we'll see more real-time attendee metrics, allowing for faster adjustments within an event for greater audience engagement.
AI will play a crucial role in helping us gain a deeper understanding of audience metrics, from who's attending to what they're interested in. It will also reveal trends in content that people engage with and how to improve the event experience for the audience. AI is making it more efficient and easier to process and glean information from the enormous amounts of data gathered in the events industry."
Anna Anisin, Founder and CEO of Formulatedby
| | |
| --- | --- |
| | "Artificial intelligence will empower planners to create a more visually-pleasing, comfortable experience for attendees." |
"Artificial intelligence will play a big role in producing an attractive visual identity for your future events. For instance, AI can help your team generate a list of attractive logo options for your event based on your chosen color palette and messaging preferences. AI will also empower event teams to talk with attendees face-to-face and direct them to where they need to go within your venue. Lastly, AI-powered virtual assistants will allow planners to automatically adjust the temperature, lighting, and ambiance of the venue while also supervising a variety of other important aspects of the event."
Lakshya Goyal, Tech Expert and Founder of Gadgets88
Invigorate the Event Experience with Tech Tools, Gifts and Giveaways
Whether you're planning your next giveaway or looking for prizes that will reward winners and bring attention to your brand, consider giving the gift of technology as a promotional giveaway. Branded promo products are one of the oldest, most effective marketing strategies in the book. Done right, you can boost website traffic, increase brand awareness, encourage customer reviews, grow social media following, and more!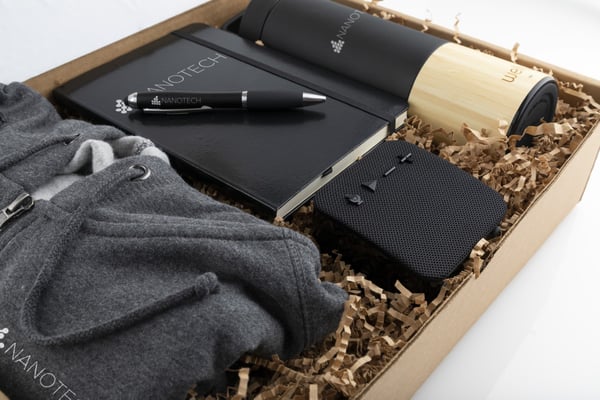 Create a lasting impression at your next meeting, conference, or event with the following tech giveaway ideas:
Want to step up your gifting game? Assembling a variety of promo items in a custom-curated gift box that recipients will love. Click the image below to learn more about leveraging gift boxes for donor appreciation, attendee engagement, employee retention, and more.